Bent Fiction – Such a sexy butt – by Les Lea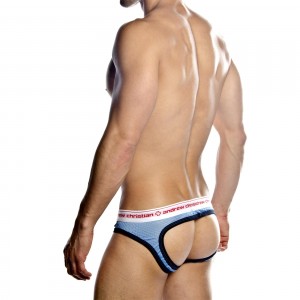 I'd slept heavily but was suddenly wide awake. The darkened room told me it was still night and a glance at my watch told me it was 3am. I didn't want to be awake but I was annoyed because there was a ridiculous thought going round in my head that I just couldn't get rid of.
Somewhere in a dream, a kid's nursery rhyme had got stuck on replay in my brain and all I kept hearing was its stupid and nonsensical verse. It buzzed and looped around over and over again making me agitated as I groped for some reason why this was playing so loud in my subconscious. I looked at my watch again; it was 3.15 but still no let up in this manic mental aberration, so I tried to think of something that would take my mind away from this annoyance. A wank is my usual prescription when I'm sleepless and need a bit of soothing. After my orgasm I'm usually so relaxed that sleep is no longer a problem.
I reached beneath the covers and my fingers first encountered the silk shorts that I wore for sleeping in. The fabric was smooth and sensuous to my gentle touch and soon that irritating verse was disappearing in favour of this new awareness. After a brief flirtation with the sexy, sleek fabric my fingers slipped slowly past the fly and found my sleeping member. Even though I was wide awake, my cocky little friend was still fast asleep and needed some gentle rousing. The folds of skin were warm and loose as I explored further; tickling its velvety smooth texture, cupping those hanging balls and rolling them around between finger and thumb. Little 'Willy' didn't seem too bothered at first and carried on sleeping, seemingly oblivious to my attention. Then John flashed into my mind. The nursery rhyme was banished and a new thought, even more inspiring, seized my brain.
Earlier, four hours earlier to be precise, I'd made love to John on the balcony of this very hotel. We'd arrived, after a long drive through Spain, exhausted and ready for an early night. The room was designed for tourists; two single beds, which I hate, a TV and the usual smattering of serviceable furniture. Only the very basics needed for a visitor who planned on spending very little time in their room.  However, as we'd checked out the view from our balcony we realised that we couldn't be over-looked so, taking the opportunity, I pulled down his shorts to reveal the present I'd bought for him to wear on this vacation.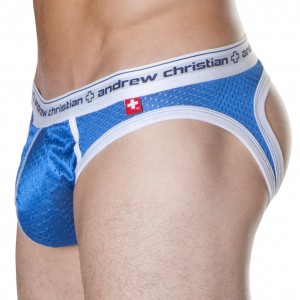 Those backless briefs had caught my attention when I'd scanned the latest gay fashion catalogue. I like jocks straps but this new development in style I thought seemed even sexier. Andrew Christian's designs really grabbed me, they were colourful, revealing, unbelievably sexy and I instantly knew that Johnny would look brilliant in them. He did. His firm tight butt looking even more enticing than usual and his cock and balls held snug in the soft cotton material. There was no denying that this particular piece of fashion was designed with shagging in mind, so I looked around at what other designers were offering and soon I had a large collection of these sexy little garments for my spunky little partner.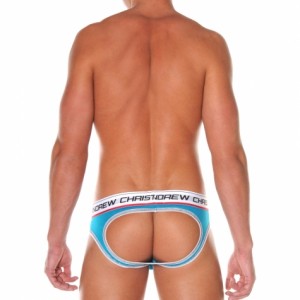 Johnny always looked super horny. In fact, he was the horniest little sod I'd ever met and he seemed to like those pants as much as I did. Certainly, on that balcony, framed in a pale blue surround, he'd wiggled his fantastic arse and encouraged me to take what was on offer. I rimmed his fabulous tight hole before entering my favourite place in the entire world. Out in the open space of the balcony, and for over twenty minutes, he moaned and groaned, flexed and twitched that little love muscle as I filled him full of my hot, creamy love. I reached round, shoved my hand down between his soft pants and his hot skin, enjoying the feel of his recently shaved pubic area and pulled on his deliciously hard cute cock. We timed ourselves to perfection as we came at the same time: I pulled down the front of his pants in time for him to shoot over the balcony as I unloaded deep inside him. After that we were both completely shagged out and made our way to our single beds to get some much needed rest.
Now my cock was completely excited by the memory, throbbing hard and full of life in my hand. The thickness always amazed me; how it could start so small and insignificant… yet grow to the size it does… was a wonder of biology. When I wear my Speedos on the beach and my knob is at rest you wouldn't give it a second look, so unspectacular is the outline. Yet when it gets the correct stimulation it becomes a monster, stretching the thin nylon, pushing its way up past the waistband and making a huge exhibition of itself. Even though I act all embarrassed and surprised, if the truth be known, I quite like those moments. Meanwhile, back in my single bed and back behind my silk shorts my mind was working overtime as my cock vibrated with delight at being encouraged in this way. Not only was I getting stimulus from the foreskin being pulled back over the wide, thick mushroom head but my mind was filled with the image of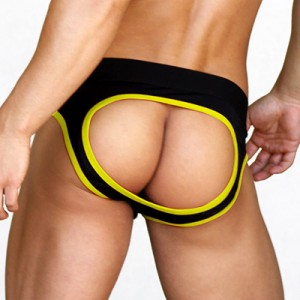 Johnny's tight little chute taking in that same mushroom head earlier. What had been warm, soft folds of skin was now a hot, throbbing piece of iron ready to burst and spew its molten contents over the sheets. My bollocks were a seething cauldron of baby making juice and my entire body temperature was reaching boiling point as my fingers swiftly stroked and pumped at this rigid monster. I kept myself on the edge for as long as I could, feeling the orgasm start then releasing the grip to let things calm down a bit before bringing it back up to that point where any thought of control just evaporates. As I took yet another deep breath and my balls jangled and begged for release, I heard a soft sigh.
Up until that moment the darkness and my own pleasures were the only things I was aware off but that sigh had signalled another possibility. The fact that it was my little fuck-buddy who had induced this solid piece of meat into existence had, temporarily, slipped into fantasy and I'd forgotten his reality. There, not 5 feet away, slumbering in his own single bed was my best friend and the best shag I'd ever encountered, who I realized should be part of this moment. I slipped out of bed and, guided by my cock straining and pointing through my sheer shorts, made the distance between us in a split second. Without a moment's hesitation I pulled back the single sheet that covered his warm, slim body and crawled in beside him.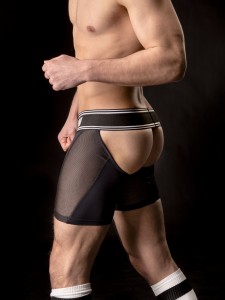 Fantastic, I could just make out that he was still wearing those sexy little fuck-pants as his framed naked butt was facing me. Snuggling up I eased my cock between his legs and enjoyed the sexy feeling his warm thighs created as I slowly bucked between them and his soft underwear. Johnny was still zonked out but my dick felt harder than I think I'd ever been and I was desperate to share this with my sleeping lover. With access to my prize already assured I was happy to find that he was still a bit gooey from our last session so I wouldn't need any further lubrication. I rocked slowly backward and forwards enjoying the superb ripples of pleasure that this simple act was sending through my body and stimulating my already lustful brain. Again, I could feel myself on the edge of orgasm and pulled right back as far as I could go (without falling out of the crappy single bed) keeping my cock lodged in his slippery channel. His still spunk-slicked arse hole was beckoning me in so I began to feed my thick cock into it. Johnny's reflexes immediately kicked in and his tense little love muscle tightened to block my intrusion. I wrapped my arms around him and pushed, with difficulty, to gain admittance but the gates to paradise were temporarily shut. I nuzzled the short hair on the back of his head and spoke softly, sweet-talking and encouraging him to open up for me.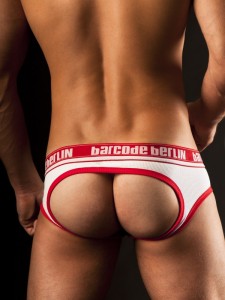 He began to wake up but in his semi-conscious condition he mumbled that he was too tired, too hot and wasn't in the mood. However, my cock, throbbing at his arse hole, made him realize just what a state of extreme agitation I was in. Slowly, that tiny tight anal knot began to relax and my aching cock began to inch forward into his hot ass. The flaming flared cock-head popped past that first tight muscle and moved on in… only to be gripped and held for a few seconds as he got used to me being in him once more. Again the firm grip released my captured cock and I slid in most of its veiny length before the tightening around my thick base brought me to another halt. I waited for the signal to push through to completion but his hips flexed and gyrated and his body rhythm took control of my dick.
He pushed back onto my cock as far as he could before pulling out and plunging back onto it again. My hands gripped his waist (I just love his slim flexible hips) holding onto that strip of cotton fabric, trying to control him as his manoeuvres sucked and tweaked at my almost spurting cock. I could hold back no longer and reached round to grab his pulsing prick. As I groaned his name and filled his butt for the second time that day his cute solid little cock spewed a load into the front of his sexy little pants. Our bodies shook together in a post orgasmic climax as I slid my hand down the front of his sticky underwear and I rubbed his hot juice back into his highly sensitive cock-head. I knew from past experience that this was something that drove him wild; a mixture of super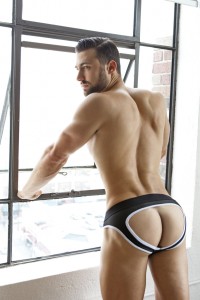 sensuality that could be both annoying and stimulating. I held him so he couldn't evade this torment and continued to massage it into his hypersensitive bell-end as he squirmed in my grasp. In truth, I wasn't just doing it for him but because, as he struggled under the onslaught, his hips wriggled and squeezed at my cock, making sure every last drop of cum was sucked out of it and into him. Eventually those pulsations of pleasure faded and I became aware of just how uncomfortable that little single bed was and how hot and sticky we were. I slipped from him and headed back to my single bed to try and get some sleep but as I relaxed and drifted off in that post sex glow you feel after an immensely pleasurable session… that bloody nursery rhyme returned to claim my brain.
Johnny didn't know it but it was going to be a busy night for both him and his sexy little pants
Images: Andrew Christian, BarCode, Jack Adams