L O V E L E E D S – HITS IBIZA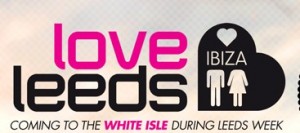 L O V E L E E D S in Ibiza
8th & 9th August
@ Playa Den Bossa Ibiza
Featuring: AMINE EDGE & DANCE
THURSDAY 8TH AUGUST
One Religion Boat Party @ Playa Den Bossa : 3pm-6pm
FRIDAY 9TH AUGUST
Love Leeds Club Party @ Sankeys Ibiza : 12am-6am
Love Leeds jets to the white isle to throw the ultimate Leeds week parties. Bringing all the brands, DJs and people together for 2 incredible events with very special guests AMINE EDGE & DANCE!
With a BOAT PARTY on Thursday 8th August and then a club show on Friday 9th August at one of hottest venues on the planet right now, SANKEYS IBIZA!
We have set the lowest most reasonable price possible for tickets and we advise you snap them up quick, as these will be like rocking horse shit come August!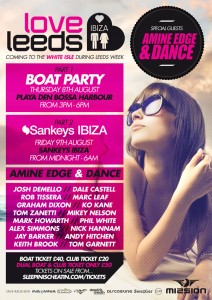 LINE UP
AMINE EDGE & DANCE [ Special Guests ]
Josh Demello [ One Religion ]
Dale Castell [ One Religion ]
Marc Leaf [ Nocturnal ]
Graham Dixon [ Rewind ]
Ko Kane [ Insomnia ]
Rob Tissera [ Courtyard Party ]
Tom Zanetti [ Insomnia ]
Jay Barker [ Dysfunktion ]
Tom Garnett [ Insomnia ]
Alex Simmons [ Courtyard Party ]
Phil White [ Rewind ]
Mikey Nelson [ One Religion ]
Nick Hannam [ Swagger ]
Andy Hitchen [ Discosting ]
Keith Brook [ Swagger ]
TICKETS ON SALE NOW
Boat Ticket £40 / Club Ticket £20
Dual Boat & Club Ticket Only £50
Online (www.sleepinischeatin.com/tickets)
Fibre (Leeds) ☏ 07595157658
Jake Rees (Manchester) ☏ 07795036064
Dragon Tattoo (Wakefield) ☏ 07817762941
__________________________________________
IN ASSOCIATION WITH
One Religion / Insomnia / Courtyard Party / Nocturnal / SIC
Fibre / Mission / Swagger / Discosting / Rewind / Dysfunktion