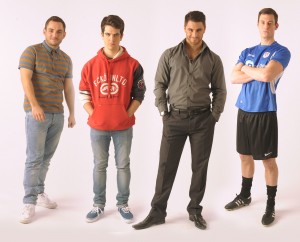 Theatre Royal Stratford East presents GUTTED, a powerful new play by award-winning Director Rikki Beadle-Blair.
Set in South East London, GUTTED is a story about love, family and sordid secrets told through the eyes of the four sexy and provocative Prospect brothers.
GUTTED is a thought-provoking and complex drama that challenges the way we approach taboo subjects. By rejecting the didactic and humanising characters whose behaviour many would find disturbing, Rikki Beadle-Blair seeks to expose our own prejudices and weaknesses. He challenges audiences to look for the truth by determining their own response to the play's complex themes, such as gay incest, sexual abuse, masculinity and attitudes towards transgender relationships.
Hard-hitting, yet infused with warmth and humour, GUTTED has a fast paced narrative that charts the lives of the Prospect brothers and their partners, and the unstoppable meltdown of a family struggling to contain the effects of revealing the truth.
Rikki-Beadle Blair said: "GUTTED is the play I have waited all my life to write. I wanted to create something that looked unflinchingly at the Bermondsey I was brought up in and the people I went to school with, fought with and fell in love with. I wanted to do it with authentic London humour, honesty and tenderness. This is my guts on the stage for all to see. This is my heart and soul."
Theatre Royal Stratford East's commitment to presenting new and diverse talent on stage is reflected in the cast of GUTTED which includes Louise Jameson (Steven Berkoff's Oedipus, Dr Who, EastEnders, Doc Martin) as Bridie Pospect, with the four Prospect brothers played by the fit and up and coming James Farrar, Frankie Fitzgerald, Gavin McCluskey and Jamie Nichols. Ashley Campbell will play the role of Frankie, the transgender partner of Luke Prospect in the play, with three black female supporting lead roles played by Jennifer Daley, Sasha Frost and Dominique Moore.
Dawn Reid, Deputy Artstic Director of Theatre Royal Stratford East said: "As a theatre committed to new writing, we're constantly looking for stories that haven't yet been told, that question, entertain and push the boundaries. Rikki Beadle–Blair's work has all of these elements with a great deal of compassion, humour and heart. It's wonderful to have Rikki back with us along with new faces in an extremely talented cast."
Theatre Royal Stratford East
Gerry Raffles Square
Stratford
London
E15 1BN                                                    www.stratfordeast.com