DOLLY PARTON'S BRAND SPANKIN' NEW MUSICAL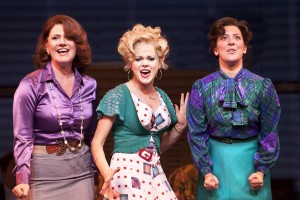 9 To 5: The Musical, the new musical comedy based on the hit movie 9 To 5, tours the UK bringing an all-star cast and a score written by Country Queen Dolly Parton.
Dolly Parton starred in the 1979 film and wrote and performed the title song. Now having written the music and lyrics for the stage production she is delighted the show is in the country.
"I am so excited that 9 to 5 The Musical is in the UK. I'm hoping you have as much fun watching it as I had writing the music for it," says Dolly. "It is perfect for anyone that's ever wanted to string up their boss, which is almost all of us. So come join the fun!"
The story centres on three office workers who turn the tables on their sexist, egotistical boss. They conspire to take control of the company and learn there's nothing they can't do.  Starring Natalie Casey as Judy Bernly, Jackie Clune as Violet Newstead, Bonnie Langford as Roz Keith, Amy Lennox as Doralee Rhodes and Ben Richards as Franklin Hart and featuring 18 original Dolly Parton numbers 9 To 5 The Musical promises to be outrageous, thought-provoking and even a little romantic.