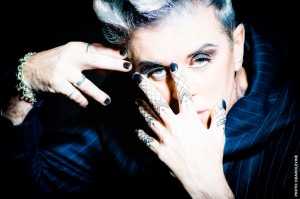 Back in 1980 a strange and haunting sound hit the airwaves and immediately found its way to the top of the charts. The electronic and un-nerving song was 'Fade to Grey' and the band were a strange mix of musicians and popular club people – they called themselves, Visage. Up until that moment 'punk' had reigned supreme for a few years but this new image that mixed music, fashion, style and art set the world off in a new direction – they were called The New Romantics.
One of the leading lights of this arty movement was the lead singer and 'face' of Visage, Steve Strange, but the years since that worldwide hit have not been kind to the man. Most bands have their ups and downs but the fame trap took its toll on the young Steve, which sent him into a downward drug inspired spiral. However, things have changed and we see a rejuvenated Steve recording and performing… so we are forced to ask: It has been 29 years since the last Visage album, what took him so long to make Album 4?
It was a question really of all the parts falling into place. Firstly, I am at a point in my life where I have been clean for 10 years and I am happy with my life and secondly the positive people I now surround myself with – not least the members of Visage – helped to create an atmosphere where the album started to happen. It took us 3 years and it was no easy ride, but it's here now and we are all really pleased with it.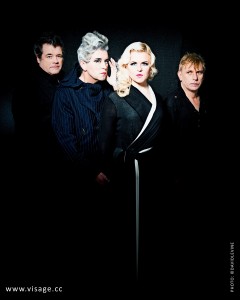 Tell us about Visage live?
Visage has been a studio band until now. We have had some live appearances but never with a full live band. We are busy rehearsing the band now, it's going to be great. Big sounds, cool video backdrops and the chance to hear the Visage songs fully live for the first time.
How did you settle on the sound of Visage 2013?
It was partially conscious to sound like early 80s Visage (i.e. the first two albums) as opposed to mid 80s Visage (album three). So in that respect we made the record with equipment from that era. That set the tone but to be honest it was the people (the other members of Visage are Steve Barnacle, Robin Simon and Lauren) and the sound that crystallized the sound of Album 4. I would describe it as the Classic Visage sound but with a small modern twist.
Are you looking forward to the record coming out?
I can hardly wait. I've been pushing so hard to get everything ready, the looks, the music, the people, creative-teams, stylists, producers, labels. Plus of course plenty of practising my looks to camera with a hair brush in the mirror!
Set for release in May, "Hearts and Knives" has been a long time in coming but it is a purposeful statement of just where Steve Strange and Visage are at this point. The past has been full of highs and lows but musically & creatively they are at a point where they can confidently present an album containing all the strands of their unique mix of music, fashion and style.