Travel – St. Moritz: budget Glitz!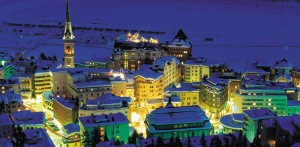 Adrian Gillan is far from neutral about the surprisingly affordable non-downhill-ski winter options in and around the world-famous glam Swiss resort of St. Moritz!
Perched at around 1800m in the stunning Engadin valley – in the Eastern canton that is Switzerland's largest winter sports region, Graubünden – the well-nigh iconic resort town of St. Moritz is in an area of outstanding natural beauty that can easily by reached in around 2½ hours from Zurich airport, on Switzerland's famously efficient and comfortable rail system.
It may only have a local population of a very few thousand, albeit well-swollen by tourists in season, but St. Moritz has hosted the Winter Olympics twice and been attracting glamour-seeking sporty tourist types, not least us Brits, most notably in the winter months, ever since the 1860s. You can still drink the natural water that enticed early settlers here, though, iron-rich, it may taste a tad like you just bit your lip!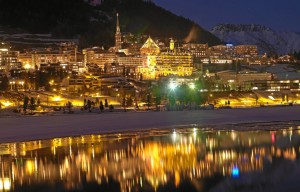 Not that winter and snow merely mean steep slopes and downhill skiing. Those who have never skied – or, indeed, those who may have skied a tad too much and fancy a change – have a whole range of other outdoor snowy options to thrill, pre indulging in some of the classiest "après" fun around.
Moreover, whilst St. Moritz itself is celebrated for its cosmopolitan glamour for the jet-set super-rich elite – enjoy window shopping, but if you have to ask how much any of the generally unpriced items are, you probably can't afford them, darling – neighbouring communities embody a pleasantly contrasting traditional rural charm, more within most budgets, with their unspoilt village characters, lovingly restored houses, plus cosy restaurants and bars.
Stay
Stay at the cosy, modern 3* Hotel Misani (Via Maistra, St.Moritz-Celerina; T: +41 81 839 89 89; www.hotelmisani.ch) in nearby, well-nigh adjoining, Celerina, boasting 39 contemporary, stylish, tad zany rooms; a comfortable bar-lounge; plus no less than three restaurants – namely Ustaria (chic, with local cuisine), Voyage (homely Italian fare) and the buzzy-basement Bodega (Spanish tapas).
Snow fun… off-piste!
It's all downhill from here: NOT! There's an avalanche of alternatives…
"They skim over the frozen lake, performing daredevil jumps, beneath colourful kites" – or that's the theory! Snowkiting was well-nigh invented on nearby Lake Silvaplana. Take a beginners' course (www.kitesailing.ch), and be very patient – you must master that wilful kite before clipping on those skis!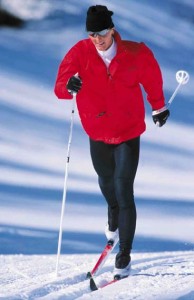 Try Cross Country (XC) skiing – either classic or skater style – on the specially prepared trails, not least around nearby Pontresina. Rent the requisite special skis (www.pontresina-sports.ch), plus grab a quick intro lesson, and you're soon cutting a sporty yet gentile swathe through unspoilt winter nature!
Sledge in a toboggan, from lofty Muottas Muragl – reached via funicular – all the way back down to Punt Muragl: a 4.2 km run, over a 700 metre drop, complete with 20 oft-hair-raising corners! Don't miss the fantastic view of the Engadin lakes as you whiz along! Note: as risky as down-hill racing, we reckon!
There are loads of other non-downhill options 'n all, from horse sledge rides or winter hiking, to snowshoeing or snowtubing; from ice-skating or curling to… snow cricket (www.cricket-on-ice.com), as young Swiss-finishing-school Brit-styled eccentrics blend into the white snows to knock each other for six! You can also spy where the real 'Brit-crats' hang out, to see and be seen, in the members' enclosure by the famous Cresta Run course – lots of young public-school-on-hols testosterone flying by on ice as mummy and daddy proudly look on! Hoorah!
After all that, who knows, you may even hanker for the odd downhill piste! Moreover, you might even be tempted to return to the area in summer for stunning mountain greenery!
And, whatever, you'll definitely benefit from the unique "vertical spa" in nearby Samedan (www.mineralbad-samedan.ch), offering a wide variety of hot and cold wet experiences across several richly-coloured tiled floors. Lots of nooks and crannies for romantic couples but, sadly – unlike many a joyous Swiss spa – you're advised to keep your kit on in here!
Show time!
So far, so budget! However, if you are, in fact, an exceptionally wealthy queer, feel free to don your "warm yet elegant" clothes for a night out at the annual "Art on Ice" (www.artonice.ch) – an unforgettable experience for a select 500 or so super-rich jet-set, all for "chariddy". For around £1000 a pop, watch champion skaters defy shivers to carve out the ice against the spectacular iconic backdrop of night-time St. Moritz, as top live musicians also entertain. Afterwards, fine-dine and party in a tent on the frozen lake. Get pissed on seemingly bottomless bottles of the best champagne! Even chat away with the likes of still-gorgeous Boris Becker as you go take a posh pee in the plush temporary loos!
Eat
Enjoy delicious local specialities… at the lofty, sun-terraced Restaurant Muottas Muragl (www.muottasmuragl.ch), for breathtaking views down along the entire Engadin Valley, perhaps whilst up there tobogganing; or at cosy lakeside Lej da Staz (www.lejdastaz.ch/en), with its homely-yet-classy soups, stews 'n pies, not least after a starry evening horse-drawn snow-sledge ride; or, at friendly, buzzing Hotel Station (www.station-pontresina.ch), maybe after cross-country skiing in Pontresina.
•    For more information on Switzerland check out www.MySwitzerland.com or call the Switzerland Travel Centre on freephone 00800 100 200 30; alternatively, visit www.stmoritz.ch; www.engadin.stmoritz.ch; www.graubunden.com
•    SWISS operates daily flights from London Heathrow, London City, Birmingham and Manchester to Zurich. For reservations call 0845 601 0956 or visit www.swiss.com
•    For details of getting around Switzerland on its legendary rail system, not to mention bus and boat – including the great-value Swiss Transfer Ticket or Swiss Pass – call the Switzerland Travel Centre on 00800 100 200 30 or visit www.swisstravelsystem.co.uk