RETURN TO TOWIE By Lee Hudson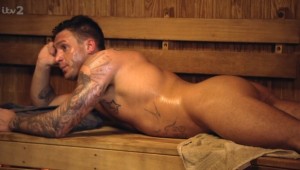 Kirk Norcross gets sweaty and naked on 'TOWIE'
courtesy ITV2
TOWIE, yep, The Only Way Is Essex really annoys me. I watched a couple of the early episodes and was turned off for good by the quality of the acting, the banal storyline, the appallingly irritating accent… and… oh yes, did I mention… the bad acting.
I thought the only people who could possibly enjoy this load of garbage were those who shared that piece of the UK… Essex… and happily filed the experience away as "Never to be repeated".
The casts good looks, their collective 'thickness' and their mock entrepreneurial skills made this a soap like no other. Corrie, Emmerdale and Eastenders carried issues, while TOWIE made it clear that the Thatcher era wasn't quite dead with a bunch of pretty, self-serving individuals out to get what they can.
This show has spawned a host of copycat programmes that are equally pathetic… and more importantly, distinctly regional. There's Geordie Shore (!), Made In Chelsea, Desperate Scousewives… the list goes on but what these shows have proved is that YouTube, Twitter and Facebook have taken these programmes to new heights of popularity and they have gained a life away from the just screen. Instant stardom, instant fame, and an instant attempt to cash in on what fame they have for as long as it lasts.
Because of this extra media attention I have been drawn back to giving these shows another look, that and the fact that each member of the cast seems keen to get their kit off for the "good of the storyline… and show". Perhaps I shouldn't judge these programmes in the usual way that I used to. Perhaps I need to chill a little and get with the 'fun' of these series, because I'm not even sure if they take themselves seriously.
However, the Celebrity magazines love them and I am always happy to go on sites like Digital Spy and gaze at the latest buff stars offering me a gander at their prized physical assets. Who needs a huge publicity team when a stripped down actor can satisfy all the storyline needed?
Nice to be back with you TOWIE boys… and yes I realise how shallow I have become but… can we have more nakedness please.
http://www.digitalspy.co.uk/showbiz/blog/gayspy/