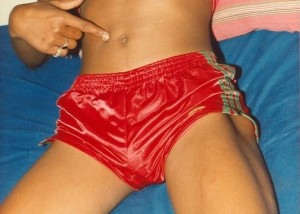 By Les Lea
I called 'ACTION' and the boy began to perform. He rubbed at his flaccid cock through his shiny new red Adidas shorts; his tight little body writhing in pleasure as he began to make the friction count. He looked at the camera, licked his lips in a mockery of every straight porn movie that has ever been made… but it didn't work. He was far too cute to pretend he was experienced and it was this innocence that was his main selling point. I could feel the star quality of this youngster but felt strangely guilty at the pleasure I was taking from his performance. I repositioned the camera and began a slow zoom into the close-up of his slowly growing nylon pouch. I could have stayed, lingering on his crotch but continued the move and panned up his hairless, boyish body arriving at his face, now with eyes closed and getting into the mood.
I focused on his mouth. A mouth I knew thousands of men would desperately, hopefully, climatically dream themselves into enjoying – those perfect full pink lips and in oh so many ways. After lingering for a while; his eyes just half opening but still inviting his audience to take pleasure in what he was doing, the camera pulled out to reveal most of his body. He moved his hand away and I could quite clearly see the outline of his firm youthful cock displayed by the thin shiny nylon material. He looked bigger than his tight little body would have had you believe. The camera zoomed in and his hidden pride filled the screen. You could even make out, from the fabric's twitching movement; the lad's dick throbbed uncontrollably. A slight damp patch began to appear, contrasting the material, so taking his cue; he slowly peeled back his sexy glistening shorts to reveal the real thing.
His sleek and shaven genitals bounced into view, his cock pointing accusingly at the viewers and daring them to touch. Off camera I urged him on to completion. He touched his cock lightly and let it stiffened more, and then he slowly dripped some baby oil onto the tip and gently rubbed it in to his flaring cock-head. His now gleaming cock reared up in response. The lighting made it shimmer and a pearl of pre-cum looped from his piss-slit to his fingertip like a string of spun silver. As he slowly jerked that perfect cock to orgasm, for the first time in years my hand was inside my pants fondling my large cock in time to his. We both came at the same time. His captured on camera for all time… mine making a creamy mess inside my pants.
The boy was a natural star and I was already formulating the next scene… something with a little more 'kink'. I looked around the studio and eventually my eyes found the perfect prop. My god, I thought, this will send the audience into space. I knew my sexy new young star could handle it…