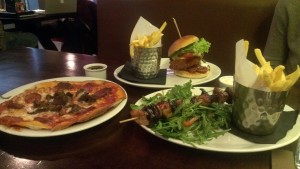 by Adam Lowe
The Black Dog Ballroom bars are among my favourite non-scene haunts in Manchester. I've long been a fan of the first venue in the Northern Quarter, with its dark, chilled out, underground bar the perfect setting for stylish cocktails—and then nursing the resultant hangover the next day.
Black Dog Ballroom NQ, on the corner of Affleck's Palace, is a bluesy bar with pool tables at the far end and plenty of booths to enable intimate drinking sessions. For the ultra-VIP experience, you can also book a PIN-protected private members' ballroom for you and your harem.
Black Dog Ballroom NWS, on New Wakefield Street, is on the border between the city centre and Manchester's student area. As such the crowd is a tad younger than its Northern Quarter sister, and there are a number of student-friendly offers at the bar to please that crowd (for instance, £3 cocktails before 10pm Monday to Thursday).
Black Dog NWS also sports Underdog, its basement nightclub; and Bruce's Bar & Terrace, where you can find black dog Bruce's dog house, a permanent BBQ and a rooftop bar. For those courageous/drunk enough to enjoy karaoke, you can also book out the venue's bespoke karaoke bar for up to 12 people.
What I especially love about Black Dog Ballroom is that you can eat there past midnight. On my last birthday, I insisted my friend take me for a midnight banquet somewhere, and we settled on Black Dog for its late-night speakeasy dining.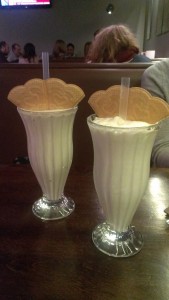 Following the downtown New York theme, Black Dog Ballroom is typified by hot dogs, boozy milkshakes, gourmet pizzas and create-your-own burgers. If you're anything like me, you'll be piling on the chorizo, fried egg, jalapenos and goat's cheese, before realising the burger that will come out will probably need to be climbed rather than eaten.
Black Dog Ballroom also flirts its gay-friendly credentials, with a trendy crowd that strays towards the metrosexual. Indeed, scene queens can take heart from the fact that Black Dog Ballroom NQ offers 2-4-1 on food and a free hour of pool to all Canal Street VIP Card holders.
In April, the brand will open its latest venture: Dog Bowl on Whitworth Street West. The management promise a festive treat for queer clubbers, with a special outing from alt-fabulous nightlife collective Bollox, called Bowling Bingo Bollox. Watch this space!