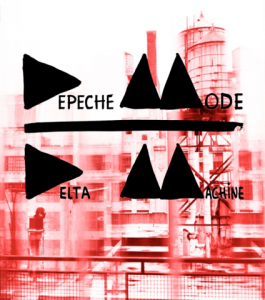 Depeche Mode have announced they will release their highly anticipated 13th studio album, entitled Delta Machine, on 25th March on Columbia Records. The album, recorded over the last year in Santa Barbara, California and New York City, was produced by Ben Hillier and mixed by Flood.
Martin Gore said of the release, "Writing this album was incredibly daunting as I wanted the sound of this collection to be very modern. I want people to feel good about listening to this record, to get some kind of peace. It's just got something magical about it."
Dave Gahan added, "With this release we've completely shifted our idea of how to create an album. When we hit a wall where we realise the album is beginning to sound too normal, we'll mess it up and really give it that organic Depeche Mode Sound. Delta Machine is no different, and I can't wait for all of our fans to hear it."
Following the release of their new album, Depeche Mode will embark on a European stadium tour, kicking off in Tel Aviv's Hayarkon Park on May 7th.  They will perform 34 shows in 25 European countries, featuring appearances at Milan's famed San Siro Stadium, the Stade De France in Paris, and Moscow's Locomotive Stadium before wrapping up the European leg of their tour in Minsk, Belarus on July 29.  A full North American tour will follow, with details to be announced in the coming weeks.
Pioneers of the post-punk era, Depeche Mode have gone on to become one of modern music's most influential groups with global sales in excess of 100 million. Formed in 1981, Depeche Mode – Martin Gore, Dave Gahan and Andy 'Fletch' Fletcher – continue to win critical and commercial acclaim around the world both in the studio and on the road.  The band's 12 released studio albums have reached the Top Ten in over 20 countries, including the US and UK. Their last album, 2009's Sounds of The Universe, debuted at the #1 chart spot in 14 countries around the world.
www.depechemode.com