by Adrian Gillan for Bent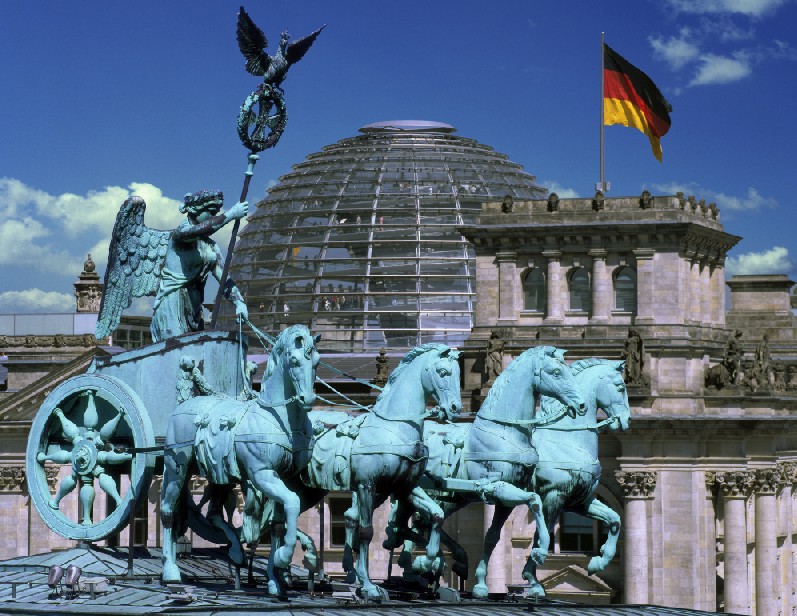 From darkest depths of war, to post-Wall elation, few cities on Earth, over the past century, have
witnessed more historic dramas – or cultural or sexual experimentation, still ongoing – than crazy Berlin.
TO SEE 'N DO
After a calming jaunt in the vast Tiergarten park, visit the glass-domed Foster-reclad Reichstag
parliament and nearby freedom icon, the Brandenburg Gate, before strolling along grand theatre-lined
Unter den Linden boulevard, past Dom cathedral and Viewing Tower, to buzzing Alexanderplatz.
Head south down Friedrichstrasse to the Checkpoint Charlie Museum; or north, past the Brecht-
famed Berliner Ensemble theatre, into the old Jewish Quarter.
Keep an eye out, throughout, for monuments to strangely-recent horrors – Holocaust, Kristallnacht,
Bunkers and Burning of the Books – plus poignant, oft-colourful fragments of The Berlin Wall.
World-class arts venues (Deutsche Oper; Komische Oper; Philharmonie etc) and museums (Altes
Museum; Alte Nationalgalerie; Pergamon Museum etc) abound, the latter mainly on the Museum
Insel 'island' near the Dom. Also, don't miss the Bauhaus Archiv for design as style-with-function!
Definitely catch a performance of opera, ballet or music at the Staatsoper (Berlin State Opera,
www.staatsoper-berlin.de), playing out its last few months at the Schiller Theatre before returning to its
gloriously revamped permanent home on the Unter den Linden. Highlights for the 2013 Spring season
include a wide range of Verdi, Wagner (complete Ring cycle) and Mozart – not least the latter's splendid
early comic opera, La Finta Giardiniera, given a bravura outing by this top-notch ensemble.
Short tube or train rides out take you to Sachsenhausen one-time concentration camp at Oranienburg
to the north; the 1936 Olympic Stadium, of Jesse Owens fame, due west; and the impressive imperial
hub of Potsdam – former home of Prussian kings and German kaisers – just south west.
TO BOOZE, DANCE 'N CRUISE
Berlin's gay scene was famous well before our own Christopher Isherwood discovered it, as evidenced
at the city's Schwules Museum (www.schwulesmuseum.de) in Kreutzberg, just south of centre and
now with its very own off-beat scene.
But the main event still is now, ever was, bustling yet compact and strangely residential, Cabaret-
inspiring, Schöneberg – just south west of centre. Wilcom! Bienvenue! A plethora of gay hotels, bars
and shops cluster around Motzstrasse and Fuggerstrasse. Top bar tips: Tom's (www.tomsbar.de) or
Hardie's (www.hardieskneipe-berlin.de). Top club tip: Connection (www.connection-berlin.de).
There's a nice little 'satellite scene' too north east of centre at Prenzlauer Berg, with a tad younger,
less 'coded' crowd; plus the odd sauna (eg www.treibhaussauna.de) and cruise club (eg www.xxl-
berlin.de).
Gents oft take airs in the Tiergarten park, mainly around the Löwenbrücke (Lion's Bridge) just south
west of the central Siegessäule statue/roundabout.
The 35th CSD (Christopher Street Day) Berlin will be held on 22 June 2013: www.csd-berlin.de
TO STAY
You could not find a nicer, friendlier, more central place to stay than Pension Elefant (Welserstraße 27,
Berlin; T: 030 30607060; www.pension-elefant-berlin.de), slap-bang in the heaving homo-heart of gay
Schöneberg – easily reached from either Tegel or Schönefeld airports; mere metres from queer bars;
and hooked up, via nearby Wittenbergplatz subway station, to all Berlin's other key scenes and sights!
Run by the delightfully helpful Rainer and Ole, cosy, spacious rooms feature lofty ceilings, solid
wooden furniture, free Wi-Fi and shared bathroom facilities. Enjoy a light breakfast in the light and airy
dining room each morning, chatting with your hosts and fellow guests. More modern apartments, also
available, are complete with an open-plan kitchen plus balcony.
OTHER USEFUL CONTACTS
Lufthansa fly direct to Berlin from London, Birmingham and Manchester, and – with one-way economy flights starting from just £39, including all taxes, fees and charges – you'll have loads more spare cash to splash once you get there! So treat yourself to some quality 'airtime', feeling a bit of Germanic class pre-arrival – without busting the Bundesbank! For more info, and to book: www.lufthansa.com
who is colin kaepernick dating
For general info on Berlin, including details of the great-value Berlin WelcomeCard which offers free public transport and discounts on a host of key attractions: www.visitberlin.de
For general info on Germany: www.germany.travel
Pension Elefant Hotel