VERMILION & CINNABAR: A Taste of the Orient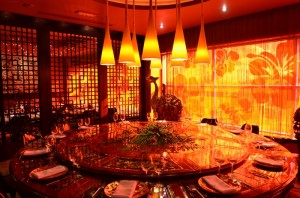 by Adam Lowe
More than just a place to eat and drink, Vermilion & Cinnabar, described by the proprietors as an Asian wonderland, can be found just outside Manchester city centre. Blending South and East Asian delight with fabulous contemporary style, Vermilion restaurant and Cinnabar provide visual, aural and culinary delights aplenty—but the venue also features a gallery and events space, making it a cultural destination as well.
Taylor Swift, Tim Burton and David Cameron are just some of the VIPs spotted hanging out in the plush Cinnabar cocktail lounge. This cool dreamscape sports bulbous cocoons, each with its own theme: Angels & Airwaves, Crystal Castles, 1984, Daft Punk, Futura and Akira. Glowing orbs of pink, orange and green dot the ceiling at various heights, like rainbow bubbles. Here you can enjoy colourfully-named (and colourfully-prepared) cocktails such as the Battle Royale and the Golden Child. The first is rather pleasantly like strawberry Chewits with a kick, while the latter is a lemongrass-infused cocktail, drawing upon the Thai curry spices for inspiration, with a delicious hint of chocolate. Resident DJs including Damien (Clique), Gold Teeth (The Deaf Institute) and Thomas Eskiturk (Idiosync) play music that fits the spirit of fusion just as much as the cocktail and food menus
Beyond the bar itself is The Abacus Gallery, which is perfect for events of 50-250 people, with its own private bar and dining facilities, a separate sound system, plus access to 200 free car parking spaces. Vermilion also sports its own contemporary art gallery, VOX, and boasts its own informative and thorough seafood recipe book, Ocean to the Plate.
Vermilion's chefs opt for locally-sourced food to maximise freshness and quality, and through its parent company Seamark obtains the high-quality seafood that makes its array of fish dishes unique in the UK. From the river king prawns with fresh mushrooms, roasted chilli paste and lime juice (Tom Yam Khoong) to the ridiculously succulent, melt-in-the-mouth sea bass steamed with lemongrass, kaffir lime leaves, garlic, chilli and fresh lime (Pla Nung Manow), the fish is guaranteed to tantalise the tastebuds.
For those with more carnivorous tastes, the beef sirloin skewers with lemongrass and spices, served with spicy sauce (Nue Ping Chaing Mai) and duck breast with vegetables, tamarind sauce, dried chillies and crispy shallots (Ped Nam Makam) make for truly flavoursome dishes from the Authentic Royal Thai menu.
On the richer side of things, the Majestic Indian menu offers original takes on classics such as tikka, which comes in the form of chicken, malai chicken and salmon tikka. The tandoori seafood platter boasts cod, rock lobster, king prawns and salmon. Deshi lamb curry, aloo gobi (curried cauliflower and potato) and karahi paneer (Indian cheese in a tomato- and chilli-based sauce).
Set menus aid the indecisive, with a range of sophisticated choices at various prices, and sampling either the Authentic Royal Thai or Majestic Indian menus, or incorporating items from both.
Desserts include the Banana Bonanza (banana cake served with organic green tea ice cream), mango cheese cake, young coconut custard, and warm Indian dumplings of cottage cheese with vanilla ice cream (gulab jamun)–among others.
The service at the restaurant was faultless, with attentive and friendly wait staff, and swift turnaround on courses. The food was impeccable and the range of drinks impressive. Unlike other restaurants that offer many dishes but specialise in none, Vermilion's chefs are skilled enough and creative enough to handle a wide-ranging menu without letting up on quality.
Vermilion Restaurant & Cinnabar
Lord North Street, Hulme Hall Lane, Manchester M40 8AD
0161 202 0055 / vermilioncinnabar.com