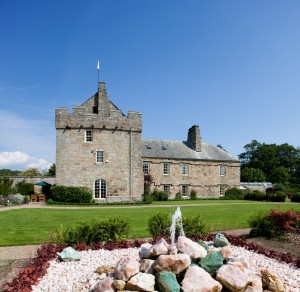 By Adam Lowe
Buried like a precious stone in the Northumberland countryside, Shortflatt Tower is an historic estate featuring five-star Gold accommodation and a range of treatments and activities at its boutique wellness centre, Fullerton Place Spa.
The estate itself, just past Belsay Village on the A696 out of Newcastle, dates back to mediaeval times. As you draw up the secluded drive, at first you see only trees. Then the trees part and you sweep round to see the full extent of the tower and gardens: masterfully maintained stone walls, well-groomed lawns, and a pink quartz water feature to die for.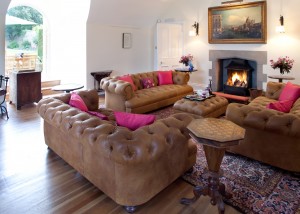 The luxury accommodation is based in the 13th Century Fortalis Tower, flanked by enclosed gardens at the side and rear. The Tower's seven bedroom suites sleep fourteen. There are five bathrooms, with either shower facilities or baths—including a couple of decadent cast-iron baths, perfect for a relaxing soak with a flute of champagne and your lover. There is an open plan sitting room/kitchen, a traditional dining room downstairs, and a formal drawing room in the original Tower Keep. Whether you fancy a four-poster bed or a bit of contemporary fashion, there are rooms to suit your needs.
Take a wander out the patio doors into the secluded gardens out back, and you're greeted with a gorgeous expanse of turf. Dare to walk barefoot here in the mornings for a revitalising lift to your day. Alternatively you can take tea and cakes on the white swing seats late in the afternoon, or sit with a loved one by lantern-light after dark.
Though the Tower only sleeps fourteen, arrangements can be made for indoor dinners with up to forty guests, including themed events. Shortflatt Tower is also fully licensed to hold civil ceremonies and can hold elegant affairs either indoors or on the pristine lawns outside.
FULLERTON PLACE SPA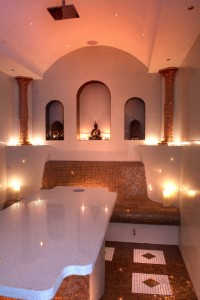 The heart of Fullerton Place Spa is the gorgeous Hammam chamber: white quartz walls, gold heated benches, soft lighting, running water and a marble massage table.
The Moroccan ritual of Hammam involves cleansing of the body through water, essential oils of eucalyptus and rose, mineral-rich clay and Argan oil, to draw toxins from the body and leave you relaxed and rejuvenated.
The process involves a Savon Noir exfoliation with Kessa gloves, which works to cleanse and nourish the skin. Then comes the signature element of the Hammam treatment: the massaging practice of pouring and splashing buckets of warm water over the body.
Rhassoul, a volcanic clay from the Atlas mountains, is then applied while the heating benches of the Hammam are allowed to do their magic. Moroccan Argan oil is then used for a final massage, which works deep into the muscles to either relax or revivify, depending on your requirements.
Hammam treatments are available for one or for couples.
Other popular treatments include an aromatherapy massage, hot stone massage, lomi-lomi massage, Swedish massage and reflexology. Scrubs, waxing and hair and beauty treatments are also available for men and women. Visitors can also use the outdoor hot tub and order freshly-made light lunches, such as afternoon tea or a ploughman's lunch.
RETREATS
Shortflatt Tower and Fullerton Place Spa specialise in a range of three- and five-night retreats. These include stress management, relaxation and health and fitness retreats, with workshops, life-skills coaching, and specially prepared catering tailored to your individual needs. The retreats are enjoyable, with all activities voluntary, and are interspersed with spa treatments, yoga and sound relaxation.
A sample three-day, all-inclusive retreat offers daily meals and snacks, guided walks, yoga and sound relaxation sessions, pilates classes, seminars on stress management and nutrition, and an indulgent hammam spa treatment. Prices range from £450 per person (based on two sharing a kingsize bed or twin room) to £750 (for a single occupancy suite with super kingsize bed).
The luxury five-day retreats typically include the same activities and treatments, plus a session of either reflexology, Indian head massage or back, neck and shoulder massage. Five-day retreats also include life coaching and an introduction to massage.  Prices range from £745 per person (based on two sharing a kingsize bed or twin room) to £1,250 (for a single occupancy suite with super kingsize bed).
A range of new retreats will be published online next year. Further information about the retreats and spa treatments can be obtained from www.shortflatttower.co.uk or by calling 01661 881 804.
The development and restoration of Shortflatt Tower and Fullerton Place Spa was supported by the Rural Development Programme for England (RDPE) network—now run by DEFRA, the County Council and the RDPE delivery Newcastle office.