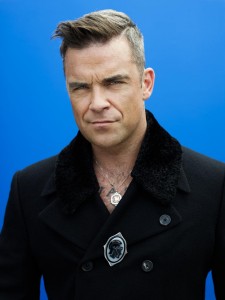 "After the Take That reunion – a busman's holiday, a break from my career which re-energised me in many, many ways – I wanted to come back with a massive solo album. My main priority was to write what I consider, and hopefully what the world would consider, to be hits. I'm very excited".        Robbie Williams, August 2012.
In a career strewn with awards, Robbie has quite simply sold more records than any other British solo artist in history.  Having sold a staggering 60 million albums  over his solo career, Robbie has also won more Brit awards than any other artist in history ( a grand total of 17, to be precise).
Six of his albums appear in the all time top 100 biggest selling albums in the UK whilst Williams appears in the Guinness Book of World Records for selling 1.6 million concert tickets in a day in 2006.
In 2010 Robbie Williams won the Outstanding Contribution to British Music Award at the BRITS; later that year his reformation with Take That led to their album becoming the fastest selling album of the century.
Since then Robbie has been working on his brand new solo album, recorded in Los Angeles with producer Jacknife Lee.  The orchestra on the album was recorded at the fabled Capitol Studios in LA.
The album is preceded by the single "Candy", released on October 29. Of this brilliantly addictive classic Robbie Williams pop song, written with Gary Barlow, Robbie says:  "It's a summer song,  about a girl who thinks she's great. And she might be, but she's a bit nefarious with her ways. Some songs take an age to write and some songs just fall out of your mouth completely formed, and you don't have to think about it. I don't know why that fell out of my mouth and out of my brain at that particular time – it just did".