NICE: A PIECE OF TRENDY FRENCH NICHE
Located along the Cote d'Azur, Nice is the second-largest French city to border the Mediterranean Sea. Famed artists Marc Chagall, Henri Matisse, Niki de Saint Phalle and Arman all purportedly drew inspiration form Nice la Bella (Nice the Beautiful), because of its sweeping coast, dazzling skyline and pristine white architecture. Adam Lowe finds his own muse as he saunters through the routes principales et les ruelles of Nice.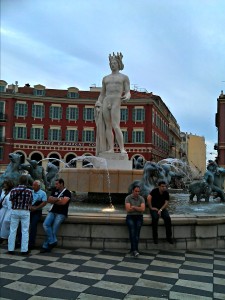 The city is more cosmopolitan, and definitely more lively, than its nearby glamourpuss sister Cannes, and for this reason draws a young, vibrant queer crowd. Its location as the hub of the Cote d'Azur means that Cannes, Venice and Monaco are all easily accessible by road or public transport. Its Mediterranean climate also makes it the second most-visited French city after the capital, with the deliciously tolerable summertime running from May to October, and warm Aprils and Novembers too.
WHERE TO STAY
Connexion Hotel at 65 rue de la buffa is a straight-friendly, kink-friendly, wallet-friendly establishment with rooms for one to four people, and prices from 50 to 140 euros a night. While there are simpler one-bed rooms available, Connexion also offers more expansive accommodation, with optional extras such as sex benches and slings for the more adventurous (and athletic) of travellers. The hotel is easily accessible: just catch the Number 99 bus from the airport (ask for 'Gambetta-Dante') or arm yourself with Google maps and head there by foot from the train station (which takes about ten minutes).
SIGHTS
Castle Hill, founded by the Greeks, is preserved only as a few remnants of its former glory, but includes fragments of classical and mediaeval architecture, seeped in history. The park offers unparalleled views over the city and the sparkling sea beyond.
The Old Town was, until the 18th Century, the heart of Nice. Now it's the heart of the gay scene, decorated with flashes of baroque and colourful façades.
Meanwhile MAMAC (the Museum of Modern and Contemporary Art) covers French art from the 1960s to the present day, with features such as the new realists, pop art and the School of Nice.
WHERE TO EAT
Le Fenocchio at 2 Place Rosseti is a family-owned, but gay-friendly, ice cream parlour with all the colours of the rainbow represented in their astonishing range of glaces. They serve both sweer and savoury flavours—everything from lavender to cactus to avocado. With nearly a hundred flavours to choose from you, can return as many times as you like.
Le Makassar, our personal favourite, is run by the fabulous and amiable Jessica. There is an understated and elegant design to the place, which lets the food take centre-stage. Though there were only two staff in attendance when we last visited, the food was prompt, and every dish prepared with love and expertise. Jessica's knowledge of which wines complement each dish is impeccable and the chilled out atmosphere is a winner every time.
Le Hussard at 1/3 rue Saitn Francois de Paule is a fabulous eaterie in Nice's Old Town. This popular open-air rooftop restaurant and bar overlooks the marché aux fleurs, but because of the warm nights and ideal location, book in advance or expect to wait. The price, however, is ultimately very reasonable for the quality of service offered. Just watch out for the more decadent wine choices.
Chez Mêmêre is a friendly, colourful restaurant that offers staple French dishes and their signature  DIY skewers, where diners are invited to cook their own food. The meat is always falling off the bone and the hospitality is camp and fun.
BARS & CLUBS
Le Fard (lefard.com) is a great little warm-up bar located at 25 Promenade des Anglais, overlooking the sea in the popular tourist area of the city. Though the area around the bar is rather narrow (basically consisting of a few stools and just enough space to squeeze past to get the toilet), there is a slightly more spacious seating area at the very end of the bar and more space outside. One of the delights of any evening in Le Fard is when some random hunk casually brushes against you, crotch-first in tight jeans, on his way to the bathroom. If you're lucky, he might just beckon for you to follow.
Le Glam (leglam.org) is the go-to venue for the gay crowd in Nice. Its metrosexual clientele is welcoming, stylish and open-minded, with a great mix of ages and scenesters: from drag queens and lesbians to muscle Marys and twinks. Located at 6 rue Eugene Emmanuel, Le Glam is, as the name suggests, a trendy place with hot staff and a well-stocked bar. The décor is arty and full of sassy camp, but at the same time, there's plenty of space for those of you who are so inclined to cruise hot guys. With their cabaret, Pop Stars and bear events, there's guaranteed to be something for everyone.
The Jazz Rock Café has a monthly MADmoiZelles night just for the ladies, should you fancy a break from the gorgeous French boys smouldering all over the city.
If you're looking for the penultimate in queer clubbing class in Nice, try Blue Boy. This ultra-chic venue at 9 rue Jean Baptiste Spinetta is open from 11.30pm-5am, located away from the bulk of gay venue on the west side of Nice's downtown area. It's popular, too, with a lesbian crowd, and is noted for serving Dom Perignon!
SAUNAS & SEX SPOTS
Morgan at 3 rue Claudia is Nice's newest sex bar. It features cabins, glory holes, a maze and all the other trappings you'd expect from such a venue. Other establishments popular with cruisers include Le Code at 4 rue Papon, Le Block at 10-12 Rue Gilly and Eagle at 18 bis Rue Emmanuel Philbert. Le Glam (above) also has spaces for cruising, if you're looking for something a little more mainstream but still just as fun.
FLIGHTS
Leading leisure airline Jet2.com offers friendly low fares, great flight times, and a generous 22kg baggage allowance to Nice from Manchester Airport, up to 5 days a week.
Flights start from £33.99 one way including taxes.
For more information please visit jet2.com
ACKNOWLEDGEMENTS
Thanks go to the French Riviera Tourist Board, and Florence Lecointre in particular, and the Nice tourism board. Thanks must also go to Victoria Bartram and Lauren Godfrey at Jet2 for their assistance.