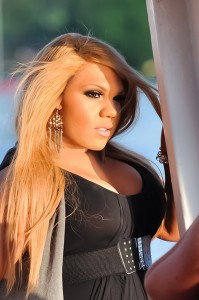 Shaniqua Shay was born in London on an early Spring morning in1987, though born genetically male she had always struggled with her identity.
Being born transgendered she felt she didn't fit in with anybody, this ultimately resulted in years of bullying through high school, which lead to her final years of school being home schooled. She spent all of her teenage years glued to the internet, writing songs, looking at pop culture and focusing on moulding herself into the person she had always known she was meant to be. She comes with a clear message, be true to who you know you are, stick at it, and eventually it will all fall into place. You don't have to be perfect, You just have to do you.
Shaniqua unleashed her creativity online back in 2009 shooting to internet fame with her parody music video's of Britney's "If You Seek Amy" (188k views) and Lady Gaga's "Love Game" (369k views) with now over 1,950,000 video views on Youtube she has managed to establish herself as an online persona.
This year Shaniqua's debut album entitled 'Transition' was created, where she has worked closely with Luke Ross, a producer based in Canada, creating catchy, pop/dance/electro hits – giving you something you haven't heard before. Transition caters for the avid pop fans, with songs like "Kittycat", an Up-Tempo Britney-esque record, with hard hitting synths with catchy melody and clever lyrics, To "Kink" (a Bent office favourite) which delves into the darker side of sexuality, There's no shortage of your typical 'club bangers' here either, with the Avicii/Swedish House Maffia infused songs 'What Should I do?" & You only call me (When You're Lonely).
The album is available on iTunes now.
Website facebook.com/shaniquashaymusic
Twitter: @shaniquashay
Youtube: www.youtube.com/iseeboys