Johan's Blog – Producer's Notes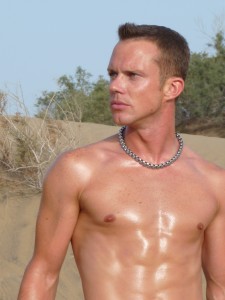 Last month I went once again to my favourite Spanish island – Gran Canaria. I had scheduled one week for the video production and two additional weeks for some relaxation and holidays with my boyfriend.
The preparation for the shoot ended in stress as a few days before we set off to Gran Canaria I found out that one of the models I booked had become a girl, thanks to sex reversal surgery. I wondered why the tests and health checks he supplied showed the first name of "Jana" and not "Jan". The last name was correct. So I called the model and he told me that he had the operation in July and looked forward to working with us again. Previously, in May and June this year, we had lots of horny scenes with him but he had never mentioned his future plans to become a girl. And he (she) did not understand why I didn't want to take him to Gran Canaria now – with quite an essential part of his anatomy (at least for a gay porn movies) missing. So, I had to find a replacement at the very last second, which was more hassle (and cost) to change the flight tickets.
Despite this the filming on the island itself went fine but with the usual 'minor' production dramas. This time we decided on a large finca in the mountains near Mogan and did not book anywhere in the tourist gay mecca of Playa Del Ingles. So, thankfully we had much more privacy for the filming outside the house, around the pool and so on. But on the other hand, the boys had quite a boring time as they could not go to the bars or the beach during their free time. It seemed the only entertainment they found was an old Playstation and having sex with each other. This was very inconvenient for me as producer because the models should "save" their loads and lust for their scenes and not spoil it before. So I found myself many times behaving like an old nanny and shouting at the boys to stop fucking or jerking each other off. On the plus side, at least I didn't have to throw cold water over any the copulating couples.
Due to the high temperatures (up to 42 degrees) and very bright light we just had a few hours per day for the shooting: from 7:30 until 10:30 and from app 18:30 – 21:00 in the evening. That means we had to get up around 6:00 every morning but we could also relax from 10:30 to 18:30 in the shadow by the pool – with an ice cold beer in the hand. What a tough life a porn-shoot can be.
One scene we planned to have on a boat. In the script we had ideas of a nice catamaran and I sent out my boyfriend to rent one. What he got was more or less a nutshell with a motor – for almost the same price. Obviously it is tricky and almost impossible to rent a boat alone on Gran Canaria. On that island you must have a local skipper with you. Of course we didn't want some nosy local (and maybe straight) Canarian on board while we were shooting a gangbang. So we had to bribe some friend of a friend of a neighbour so we could get at least something on our own.
To shoot an eight guys gangbang scene on a boat designed for 6 person maximum was kind of artistic. Because it is not only the 8 models, we have also the director, 2 camera people, the sound guy and some guy doing assistant/makeup/light.  Needless to say that quite a few guys fell over board during this sequence (thank god no camera or equipment met the same fate).  I'm currently editing the scene and actually it looks very professional and horny – you even think we are on a big yacht. So, in a small area we were able to film 8 guys in a gangbang, a double penetration and a foot-fucking in the searing heat, in the meantime our hysterical make-up bitch shrieked in the background, while simultaneously loosing the baggage over board. Having said all that, well done to everyone, the models and the camera men who all worked superbly but I have to admit, it was one of the strangest experiences I had on a shoot this year.
You can imagine that after this production I really needed the 2 following weeks of holiday alone with my boyfriend on the island. But I am proud that we really made a great horny and sexy movie.  A strong DVD you will surely like a lot!
Unfortunately we do not have a title for this production yet. So watch out the new releases on www.Homoactive.com  The DVD will be out pretty soon.
Love
Johan