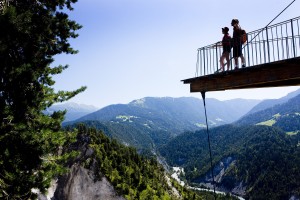 Chocolate 'n cheese, mountain 'n lake, money 'n men: Adrian Gillan is far from neutral about the sporty summer outdoors and butt-bare spas of Switzerland, amidst lofty Alps and fit male bods!
Naturally dramatic Switzerland has it all, even in the non-snowy seasons: invigorating outdoor activities, relaxing spas and finest food! And nowhere more so – for anyone seeking distinctively Swiss open-air thrills, paired with soothing spas and chicest eats – than the country's largest canton, Graubünden, in the north east; notably around lovely Flims and Laax, and nearby Vals. This area of outstanding natural beauty can easily by reached in around 2½ hours from Zurich airport, on Switzerland's famously efficient and comfortable rail and bus system.
Stay
On arrival in Laax, check-in to the fantastic Signina Hotel (www.signinahotel.com), a friendly hub boasting comfortable rooms; welcoming bar and terrace, perfect for an aperitif; highly tasty Italianate restaurant, Camino, with even tastier waiters; wonderful 'adventure pool', with banks of buttons setting off all manner of watery jets and falls; and extensive secluded naturist zone, brimming with saunas, steam rooms, plunge pools and showers, where you can really get your kit off! And all so well located: the perfect starting-point for forays into the great outdoors! Listen out for the local Romansh lingo too!
Action
Ride an E-Bike for a few hours along trails through the surrounding Flimser Forest. These electrically enhanced bicycles – available to hire from various places around town, for private jaunts, as well as part of more organised tours – make light work of what could be more gruelling mountain bike trails, giving that extra e-kick when most needed, making most routes accessible to most people.
For the more adventurous in the warmer months, try Switzerland's oldest ferrata – a cliff assent, aided by ladders and hand-cables – opened in 1907, and fully renovated in 2007. The historic "Pinut" via ferrata is nominally suitable for children aged 12 and up, and – with due care and use of the safety equipment provided – is, clinically-speaking, almost risk-free, although that's not what your nerves will most likely be telling you! Mountain guides offer weekly tours (Reservation: +41 (0)81 920 92 00); or you can dare to ascend on your own! After a couple of hours of such steep climbing, spend another couple more gently hiking back down into the peak-flanked Bargis Valley, for a traditional Swiss lunch on the lovely terrace of Restaurant Bargis.
If you fancy getting a bit wet and seeing the valleys and mountains from a different perspective, try your hand at river rafting (www.swissriveradventures.ch), in the spectacularly beautiful Rhine Gorge, sometimes dubbed the 'Swiss Grand Canyon', complete with 'Il Spir' viewing platform. You'll be well kitted out and drilled before you hit the low-to-medium difficulty rapids for a couple of hours – but don't put up with any freeloading slacker fellows on your inflatable!
Of course, to get truly wet, there's nothing better in Switzerland than a dip in a real-life Swiss lake, and few are more picture-perfect, bijou and glorious than lovely little emerald-green Lake Cauma in Flims. Descend the funicular to the lake enclosure, before lolling on the grassy banks, or swimming out to the little island – or maybe to one of the jetties for a spot of diving. Just make sure you can swim properly first, though, before striking out too far mid-lake! Lovely restaurant for a spot of lunch here too! Idyllic!
For the truly, truly daring, hit the Freestyle Academy (www.freestyleacademy.laax.com) in Laax, just behind the Signina Hotel – to 'express yourself' through skateboard, trampoline, acrobatics, BMX, wall-climbing and the like. Amongst the best centre of its kind in Europe, and all under one roof!
Younger visitors also have lots to do at the Rocksresort (www.rocksresort.com) – a fab development of rental apartments, shops, bars and restaurants, with a fun outdoor activity zone at its midst.
Steam and rest
You'll be pretty content at the Signina Hotel's own spa area. But you might like to up the health-and-wellness ante with a day-trip to the spa at the nearby historic 5-star Hotel Waldhaus (www.waldhaus-flims.ch) in Flims – offering a range of pools, including an outdoor fish pond, plus handy naturist area!
Alternatively, spend a day at nearby Vals, just an hour away by bus. After a wander around the small, beautiful village itself, set in a breathtaking valley system, hit the main event in 'town' – the Therme Vals spa (www.therme-vals.ch), built by renowned architect, Peter Zumthor. This futurist wellbeing complex, built from local rocks, is a cubist temple of spa areas, combining hot and cold, light and dark, inside and out. Soak in the wild-flowers scent bath, and the triple-chamber steam room; or just bask out on the terrace, gazing across to the rocky peaks! And you'd be mad to leave Vals without a spot of lunch on the terrace at Restaurant Rovanada (www.rovanada.ch) – try their amazing meat-with-salad combo; or without a gentle 2-hour hike to the Peilertal, to see the goats being driven down to be milked for cheese.
Eat
Other top local eateries include cosy Arena Kitchen (www.arenaflims.ch/en/kitchen); modern pan-Asian, Nooba (www.nooba.ch) in the Rocksresort; and lofty uber-Swiss Larnags (www.larnags.ch), on the hill just above the Rocksresort, itself affording a great vantage from which to do some dazzling nocturnal star-gazing – of the real, astronomic variety, that is!
•    For more information on Switzerland check out www.MySwitzerland.com or call the Switzerland Travel Centre on freephone 00800 100 200 30; alternatively, visit www.graubunden.com, www.flims.com, www.laax.com or www.vals.ch
•    SWISS operates daily flights from London Heathrow, London City, Birmingham and Manchester to Zurich. For reservations call 0845 601 0956 or visit www.swiss.com
•    For details of getting around Switzerland on its legendary rail system, not to mention bus and boat – including the great-value Swiss Pass – call the Switzerland Travel Centre on 00800 100 200 30 or visit www.swisstravelsystem.co.uk