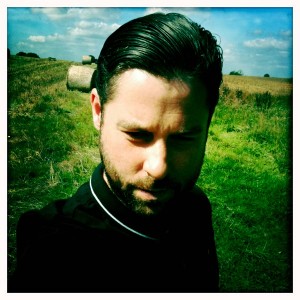 'Shadowformerself' is the enigmatic debut solo album from Graingerboy co produced by Ian Catt (St Etienne).  The quirky play on words in the title gives a very apt insight into the personality behind this gem of a collection, musically influenced by the likes of; David Sylvian, The Beloved, Carl Craig, Massive Attack, Brian Eno and One Dove, inspired by a decade of life experiences that include a personal near death experience in the Christchurch Earthquake.
Graingerboy is Simon Grainger who is super lovely, talented, gay and hails from Leeds. A brush with chart fame in the late nineties as one half of Electric Boutique with Kitsune DJ Jerry Bouthier saw their club hit, "Revelation", catapulting them into the UK Top 40, cumulatively selling over a million copies over the last decade featured as it was on numerous worldwide compilations. However, Simon is perhaps best known as one of the darlings of the Balearic music scene during the 90's when he played live keyboards and backing vocals for the legendary Ibiza sunset band 'A Man Called Adam'. AMCA tracks can be found featured on all the best Ibiza compilations from the past 15 years. During his time with AMCA Simon supported Groove Armada, played at The Big Chill Festival and headlined the Cafe del Mar's 20th anniversary celebrations in Ibiza.
The forthcoming album represents a bittersweet milestone in the life and career of Graingerboy. Generally a laid-back affair, there are moments that pull the listener from ambient intensity to the uplifting magic of euphoric disco. Jagz Kooner has remixed track 5 on the album, flirting with a sound somewhere between the Pet Shop Boys and Hot Chip, joyously entitled 'Vintage' the track is due for release September 3rd and a definite contender to be playfully setting dance floors alight this Summer. It's a perfect, feet shuffling, just cant help those hands from raising, Summer delight that gets you grinning from ear to ear. "PMCM", was commissioned by Rambert Associate Choreographer and South Bank artist-in-resident Rafael Bonachela, who most famously choreographed Primal Scream, Hugo Boss and Kylie Minogue's "Cant Get Blue Monday Out Of My Head" mash-up for the Brit Awards.
Out: 15th October – www.popcrisisrecordings.com