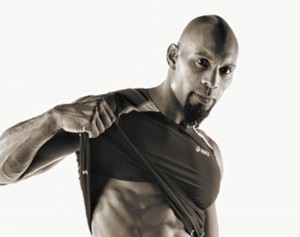 Fit Tip 3:
High intensity interval training (HIIT) – fast results!
If you're short on time but want to see fast results, try HIIT for immediate fat burn and weight loss. This form of training is all about speed and intensity! Use a timer to keep you motivated and on course with your workout.
•         30-second intervals are the ideal place to start with interval training. You need to work hard enough so that the last few seconds feel almost impossible to keep working-out. Everything in your body should be burning, so go for it!
•         Try 60-second intervals to completely exhaust your muscles of their stored energy, which will take 24hr to 48 hours to replenish.
•         Or try my favourite 40/20 sessions. Work as hard as you are physically able to for 40 seconds, followed by an active recovery for 20 seconds, repeat for 15 exercises with super-setting arms, legs and trunk exercises for maximum calorie burn!
Don't forget just walking
You can burn up to 300 calories an hour, just by walking and if you increase the speed for a brisk 45 minute walk, then you will dip in and out of your fat burning zone, as well as gaining a low intensity workout.  Little tricks I use to increase daily calorie burn and stay slim include:
•         Always walking up escalators, and taking stairs instead of the lift
•         Park as far away as you can from the supermarket entrance. This way you have further to walk back and forth with the shopping or the trolley and this will burn even more calories
•         Ensure you pull in your belly button, and squeeze your shoulder blades when walking to help create perfect posture – and squeeze your backside to activate the glutes and leg muscles.
Advice from celebrity fitness expert Wayne Gordon, ambassadors for ICON Health and Fitness (ProForm, NordicTrack and iFit exercise ranges), which can be found on Twitter @iFitLiveUK