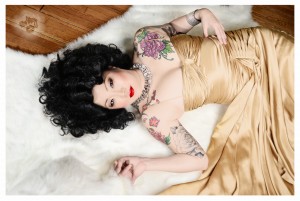 American comic legend Margaret Cho arrives in the UK for a series of London dates later this month. Billed in Wikipedia as 'comedian, fashion designer, actress, author, and singer-songwriter. Cho, of Korean descent, is best known for her stand-up routines, through which she critiques social and political problems, especially those pertaining to race and sexuality.' In other words, this woman is a one-person demolition force, so just be glad she's on our side.
Your MOTHER tour is up and running…how has it gone so far?
It's actually just starting! And it's going great! Wait to I'll get to the UK!!
Has your mother been quite supportive or up in arms?
She loves it. She basks in the fame!
You arrive on these shores with the UK on a high from a successful Olympics (and Paralypmics) and a Queen celebrating 60 years on the throne… how would you feel about appearing on a Royal Variety Show?
I loved the Olympics and Paralympics and I've never met the Queen but I have had the honour of meeting Prince Charles and the more Royal variety the better!
You're performing at the Leicester Square Theatre in London, do you like playing to a UK audience?
Yes, I love coming and performing in the UK! It makes me feel very exotic and American, which are words that do not go together.
Do you have to do any major re-work for a British audience?
Yes, I think so! It's a whole new world!
With your television appearances in popular shows like Drop Dead Diva and 30 Rock are you ever encouraged to be less 'in-your-face' for your live shows?
If anything I think I'm more in your face! I'm all over your face!
Are you going for the comedienne with the most DVDs award?
Ooh I need to put out a fitness DVD too. Yes I believe I have the most.
An American election is looming, and here in the UK we've heard about the Tea Party but not a lot of the Cho Party, is this an opportunity missed?
There needs to be a big Cho party for suuure! With drugs please! Bring on the festivities
You love to blog but have the responses ever got to you?
Oh I don't know how to read them on my computer so my answer would be no.
A recent Cho tweet on Sex Advice:
I have had a great deal of sex in my life, yet not a lot of people ask me sex advice. Perhaps it's because I complain a bunch about it and nobody likes a squeaky wheel although it does get the grease. I don't know. I have it less lately, more because the level of my desire has gone way down. It may be aging, or a health issue, or a kind of shutting off of lights in certain rooms that don't get used much in order to save energy. I'm being green about it.
Margaret Cho plays Leicester Square Theatre in London from 26th October for 5 nights
Photo: Miss Missy photography