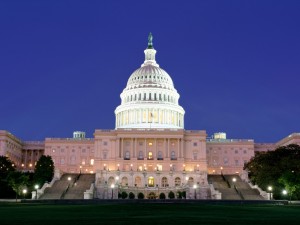 A tale of three, high-contrast, cities! Adrian Gillan explores an urban trio in the US 'Capital Region' – Baltimore in Maryland, Alexandria in Virginia plus capital Washington DC itself!
Enjoy the patriotic grandeur of US capital Washington, combined with the nearby buzz of Baltimore and laid-back history of Alexandria – all available by direct daily flights from London, and now also Manchester, via United airlines, right into eye-catching Washington Dulles International Airport; and all so close and hooked up to public transport on arrival that you don't even need a car to get around!
Baltimore, Maryland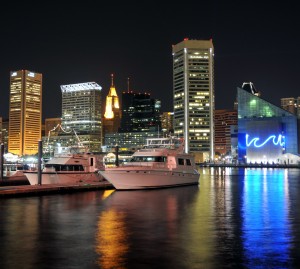 All too oft living in the shadow of, in fact younger and tad smaller, capital Washington DC – from which it is scarce an hour away by train – Baltimore is in fact a physically beautiful city, centred around an expansive harbour, oozing with American history, chic eateries and sexy men.
Pitch yourself at the central Fairfield Inn & Suites Baltimore Downtown / Inner Harbour (www.marriott.com); or – a little further out – at the tad-more-lush DoubleTree by Hilton (www.doubletree.hilton.com).
For a fun, and pleasurably eye-catching, way to explore Baltimore, hop on a segway (Segs in the City, www.segsinthecity.com) to take in the lofty, historic Federal Hill area, out towards Fort McHenry, itself inspiration for the Star Spangled Banner song; old world yet vibrant Fells Point, and nearby Little Italy; not to mention Baltimore's beautiful inner harbour itself, teaming with historic ships and boats – itself also well-viewed via a Watermark Baltimore Inner Harbor Cruise (www.watermarkjourney.com).
Back on firm dry land, flip and ping your way around the National Pinball Museum (www.nationalpinballmuseum.org), learning about the historical evolution of the game, before setting yourself loose on dozens of antique machines; or check out the quirky American Visionary Art Museum (www.avam.org) – the only collection in the country dedicated to works by supposedly 'untrained' artists, and famous for its whacky gift shop, "Slideshow", too.
Take a breakfast or brunch at Miss Shirley's Café (www.missshirleys.com), perhaps downing one of its stunning Eggs Benedict dishes! Enjoy a largely liquid lunch at Leinenkugel's Beer Garden (www.leiniebeergarden.com); fine dine at Brightons, at the Royal Sonesta Harbor Court (www.harborcourt.com) hotel, overlooking the Inner Harbor, gorging on contemporary, seasonal, local food in a classic setting; or settle into cosy Sabatino's (www.sabatinos.com) in the Little Italy district.
The Baltimore gay scene boasts over half a dozen venues, the largest of which are Hippo's (www.clubhippo.com) and Grand Central (www.centralstationpub.com) – two sizable and neighbouring bar-clubs, both just north of the harbour.
Washington DC
A mere hour or so by train south west of Baltimore lies the US capital, Washington DC – a political, cultural and culinary powerhouse!
Settle into the friendly Capitol Hill Hotel (www.capitolhillhotel-dc.com), an all-suite, "extended-stay" boutique affair, a mere stroll from the Capitol Building and National Mall.
The best way to see all the main sites is on a leisurely yet highly time-efficient Bike Tour (Bike and Roll, www.bikethesites.com), covering the monuments and memorials to major wars and presidents on the National Mall and Potomac Tidal Basin – not to mention the White House.
Clustered just around the National Mall, it is free to visit any Smithsonian museum or gallery (www.si.edu/museums), including the Museum of American History, housing the original 'Star Spangled Banner'; and the Museum of the American Indian. Also check-out the National Archives, housing the US Constitution, Bill of Rights and Declaration of Independence; plus massive National Gallery of Art.
Just north of the Mall, stake out the interactive, informative and highly comprehensive International Spy Museum (www.spymuseum.org). Don't miss the nearby Ford's Theatre Museum, Petersen House and Center for Education and Leadership (www.fordstheatre.org) – the historic place where President Lincoln was assassinated and died in 1865.
Treat yourself to a healthy, inexpensive lunch at one of a wide choice of Food Trucks (www.dcfoodtrucks.org) dotted around the centre; or park your bum at family-style Italian, Carmine's (www.carminesnyc.com).
Fine dine at Charlie Palmer Steak (www.charliepalmer.com), a favourite senatorial haunt, serving mercifully sensibly-sized portions of steak and seafood, paired with all-American wines! Or gorge at buzzing Johnny's Half Shell (www.johnnyshalfshell.net) for arguably the best fish dishes in town!
Washington's thriving gay community enjoys a fast-expanding scene, mainly around the Dupont Circle and U Street districts. Check out Cobalt / 30 Degrees (www.cobaltdc.com, with upper floor to jig. Other top tips include Nellie's Sports Bar (www.nelliessportsbar.com) with its lovely terrace; or Remington's (www.remingtonswdc.com), DC's only gay country and western club, down on Capitol Hill.
Alexandria, Virginia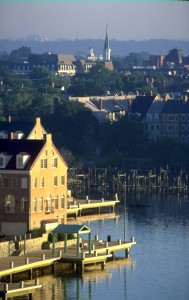 For a change of pace, and the perfect way to round off any stay in 'the Capital region', simply take the Metro to Alexandria, (metro stop: 'King Street – Old Town'), just in Virginia, still on the Potomac River – merely 20 minutes from central DC, but seemingly a million miles away. Step off the metro and you are immediately hit by the slow pace, and dog-friendly small-town feel; plus a gorgeous Old Town brimming with quaint houses, side by side with fine dining and shops.
Check-in to Hotel Monaco (www.monaco-alexandria.com), a boutique-chic Kimpton property on the main street.
An Old Town Food Tour (www.dcmetrofoodtours.com) is the perfect and highly sociable way to walk, sip and eat your way around the old town in the presence of a knowledgeable and charming guide, lasting around 3½ hours. See the house where George Washington lived, and Carlyle House (www.nvrpa.org) – a gloriously-restored mid-18th Century stone mansion. Stop off for fodder at the likes of pubby, beery Bilbo Baggins Global Café (www.bilbobaggins.net); tasty, healthy Lebanese, The Pita House (www.thepitahouse.com); or light and airy Columbia Firehouse (www.columbiafirehouse.com), offering amazing 'historic' cocktails. Otherwise, Pizzeria Paradiso (www.eatyourpizza.com) fills a gap!
For a different perspective, jump aboard a 40-minuntes, narrated Alexandria Seaport Cruise (www.potomacriverboatco.com). And browse the waterfront Torpedo Factory Art Center (www.torpedofactory.org), home to over 80 open artist studios, several galleries and workshops plus the hands-on, free-entry Alexandria Archaeology Museum (www.alexandriaarchaeology.org), majoring on local American Civil War history.
Other useful sites: www.baltimore.org; www.washington.org; www.VisitAlexandriaVA.com; www.capitalregionusa.co.uk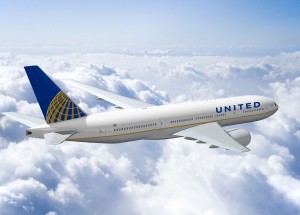 United Airlines has recently launched a daily non-stop service between Manchester and its Washington, D.C. hub, Dulles International Airport, with return fares in United Economy starting from £635.94 including taxes. The airline also operates five daily non-stop services to Washington/Dulles from London Heathrow with return fares in United Economy from £636.14 including taxes.  United's Washington/Dulles hub offers onward connections to more than 300 destinations across the Americas, including more than 80 cities served non-stop.
For everyday low prices, visit www.united.com or call 0845 8 444 777.