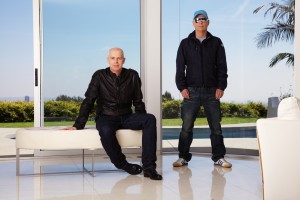 Neil Tennant and Chris Lowe recorded 'Elysium' earlier this year in Los Angeles, the first time they have recorded an album in America.
It features twelve new songs which display a warm, deep electronic sound, and includes orchestral arrangements by Joachim Horsley, Andrew Dawson and Ben Leathers. They co-produced the record with US producer Andrew Dawson, who has won three Grammys for his work on Kanye West's albums.
Track listing
1. Leaving
2. Invisible
3. Winner
4. Your early stuff
5. A face like that
6. Breathing space
7. Ego music
8. Hold on
9. Give it a go
10. Memory of the future
11. Everything means something
12. Requiem in denim and leopardskin
Pet Shop Boys said: "It was inspiring to make an album in Los Angeles, and to work with a producer from a different musical genre, who has brought a new dimension to our music".
Elysium out 10th September – Parlaphone          www.petshopboys.co.uk