Our Kelly by Ryan Houston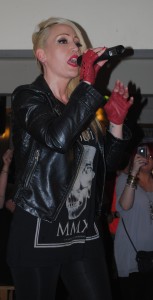 Kelly Llorenna launched her career in the 90's with euro-trance group N-Trance, providing vocals for hits such as 'Set You Free.' Her latest project, 'Freak Asylum', is a creation of Kelly and the team at Love to Infinity. Freak Asylum is a mix of killer songs , killer synth and guitar riffs plus heavy dance beats with the undeniable huge diva voice of the Queen of Clubs – the one and only Kelly Llorenna.
What brought on the exciting re-invention of you as an artist with Freak Asylum?
I was in Las Vegas for the Billboard Magazine Summit with producer Andy Lee from Love To infinity and we were in a bar discussing bands and we decided to form Freak Asylum, I've known Andy since he was the recording engineer on my first hit record 'Set You Free' for N-Trance. We decided to get in touch with our good friend Peter Hook 'Hooky' from legendary UK bands Joy Division and New Order. 'Hooky' owned The Hacienda the UK's first 'Super Club' in Manchester in the 1990's.
We wrote a new song with him along with Nina and Dana our writing partners in New York. 'Hooky' also played bass on 2 songs on the album 'That's What I Hate About You' and 'Contagious'. It was an amazing experience as 'Hooky' came to the studio with the original 5 string bass he used on Joy Division's 'Love Will Tare US Apart' , that was a piece of Rock n Roll history !
What is Freak Asylum all about and how are fans taking the new sound?
The first single off the album is 'You Better Leave' written by US Billboard No1 hit writer Toby Gad. Toby has written hits for Beyonce 'If I was A Boy', The Veronica's, Alicia Keys and Jessie J.
We are really pleased to have such a great radio friendly song as our first single written by such a great world proven writer, we love Toby's work. We have just finished the video to 'You Better Leave' I'm really pleased with it, it has a cool twist at the end as well so you'll have to watch it and see!
The album sounds like a cross between Pink! Gwen Stefani and Madonna meets Van Halen and Marilyn Manson. It's a cool mix of catchy radio pop songs with dance beats and rock guitars! The fans seem to be taking it down quite well, and that's what makes it great!
There is something about your music that makes people want to get up and dance or party, what do you think is that special something?
All my hits have been big uplifting songs, so I guess people associate me with that style as I have a big voice! It just makes people want to get up and dance!
Songs like 'Set You Free' are timeless classics – I still sing it live at every gig I do and I even sing it live with my new band Freak Asylum, people do just love it.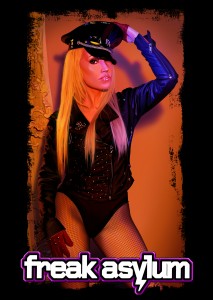 The new Freak Asylum Single 'You Better Leave' is out soon and we have a killer album – 'LET THE MADNESS BEGIN!  And on top of that, Freak Asylum are out playing live all over the UK as a band
so……'Let The Madness Begin ! '
You can check out all the latest on Freak Asylum and Kelly Llorenna at www.freakasylum.co.uk
Photo: Grizz