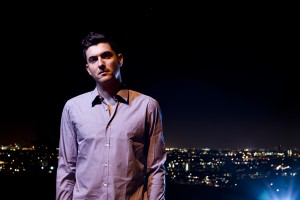 Appropriately titled debut single The Moment, which was released earlier this year, captured the imaginations of dance floors around the world.
What just happened?
Who's this record by?
After weeks of support from DJ's including Tiesto, David Guetta, Laidback Luke, Dirty South, Calvin Harris and Erick Morillo label boss and one third of Swedish House Mafia, Steve Angello, revealed that the track was in fact the first instalment from Tim Mason, a new artist he'd signed to his record label, Size Records.
"I love how something that is so intangible can connect so many people whether they're in the same place or a million miles away. I live for those moments on the dance floor when everyone and everything is electric. I knew I had to make music," says Tim, and his passion is brought to life in his productions and performances.
Roars, screams and heart-shaped signals infect audiences at festivals, clubs and arenas where he has played in the UK, Europe, USA and Canada as his remixes of Moby's "After", David Guetta "Where Dem Girls At", Lucid "I Can't Help Myself", Nadia Ali/Alex Kenji/Starkillers "Pressure", Zedd "Stars Come Out" and forthcoming Timbaland "Pass At Me" and Red Hot Chili Peppers "Otherside" ring out his trademark beats and rolling riffs.
Check out his Facebook page, for more info. http://www.facebook.com/timmasonmusic