I Left My Heart in Il Salviatino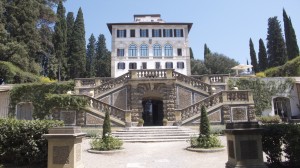 Photos: Christian Burton.

This month we start a new series of features looking at venues and destinations that we think are ideal for that perfect celebration for a couple who feel they deserve something 'special' in their lives.
Sometimes you need a holiday that is a bit special. A time where you treat yourself and have an complete break from the hustle and bustle of life, while immersing yourself in sheer luxury and indulgence. Simon Savidge recently enjoyed just such a trip at the Italian hideaway of Il Salviatino, a break that felt like being in a fairytale.
Do you ever have that occasional feeling in life that you are in a dream, yet when you pinch yourself you are still awake? Well, after a ten minute drive from Florence's main train station, and as I was being chauffeured up a long and winding candle-lit drive in the half-light, I glimpsed a stunning old roman villa through Cypress trees and… I had such an experience. It was both real and surreal at the same time. A fairytale moment that just got better.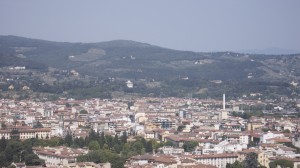 Dominated by its elaborate staircase, which wouldn't go amiss in Downton Abbey you are greeted by welcoming staff in what can only be described as the stateliest of reception areas. There has been a whopping 50 million Euros spent on the transformation of Il Salviatino after it was left derelict by previous owners, which included art critic and journalist Ugo Ogetti, and then Harvard University. With a modest 47 rooms in which modern contemporary furniture is mixed with items revived from the building's past, you can tell where the money has gone. On visiting your wet-room, you discover that you are bathing in between Roman pillars. In one such suite, originally designed to be the hotels kitchen, you lie under a fresco, which had been hidden during the war, or a roman trough now converted into a bath. Each room has its own quirk, yet it never feels themed or gimmicky, just deluxe.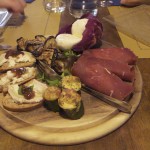 On a tour of the hotel, you are shown the library, housing over 1000 books in all languages. The terrace restaurant will leave you breathless for two reasons. One, you suddenly realise how high up in the Fiesole hills you are and Florence and the Duomo sprawl before your eyes. Two, the food is so good. Old Tuscan recipes given a modern twist by Michelin starred Chef, Carmine Caló, using ingredients sourced in the grounds such as truffles.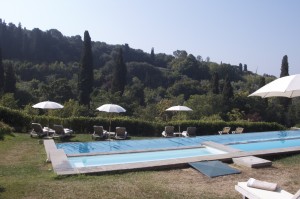 Il Salviatino is also one of those rare hotels where the luxury of the inside continues outside. You will find white leather sofa's dotted around the refurbished Italian garden, sit down and you will be waited on in seconds (how they suddenly appear is quite a marvel). Continue on a winding path and you will reach another of Il Salviatino's secrets… a triple decked infinity pool and spa overlooking the Fiesole countryside. Naturally I had to try the spa treatments, especially as they are renowned for a new form of massage just for men using specialist oils and techniques by Dr Vranjes, whose only UK outlet is none other than Harrods. You are consulted by staff as to what area's need work and then they prepare oils that add to the experience. I can't give away the secrets of the techniques but having tried them… they are amazing, seriously!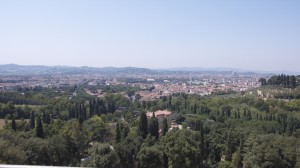 You could happily stay at the hotel all day in your own magical world. However, should you wish to see the sites of Florence such as the Duomo, Ponte Vecchio etc or visit Florence's gay bars, cafe's and clubs (recommendations would be Piccolo Cafe, Yagbar and Krisko club according to locals) there is an hourly shuttle, in a Mercedes of course, to and from the Duomo itself. You are also given your own personal concierge, in this case a 'personal ambassador', who will sort out advance tickets or arrange tables in some of the city's most delightful and secret restaurants.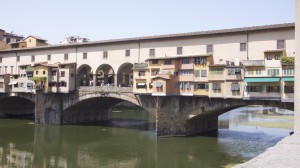 You may never experience anything quite like this anywhere else, so get going, I will be going back without a shadow of a doubt. You don't need an excuse to go to Il Salviatino but with Florence's Queer Festival coming at the end of October 2012 http://www.florencequeerfestival.it/ it could be the ideal getaway.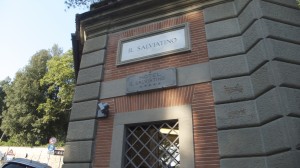 For more information on the hotel visit http://salviatino.com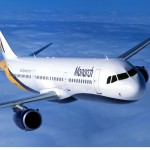 Simon flew to Verona with Monarch airlines.
Monarch, the scheduled leisure airline, operates flights to Verona from Manchester airport with fares, including taxes, starting from £40.99 one way (£99.99 return).
All customers are allocated a seat at check-in; however seats can be pre-allocated on scheduled Monarch flights for £5.99 per one-way flight to ensure that families and groups are seated together.
They can also take advantage of online check-in, which is available between 18 days and four and a half hours prior to departure. With a great range of tasty hot and cold meals that can be pre-booked or purchased onboard, flying with Monarch really couldn't be simpler.