Faster, stronger, sillier!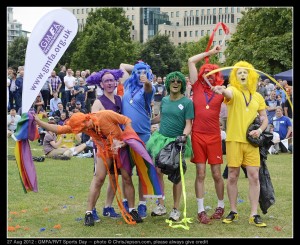 Photos © ChrisJepson.com
London's appetite for grand sporting events remained undimmed as hundreds of gay men, lesbians, fairies, families and small children flocked to Vauxhall Pleasure Gardens to spectate or participate in the annual GMFA / RVT Gay Sports Day.
From the opening ceremony, which also featured drums, industrialists and dancing nurses, but on a tighter budget than its Stratford predecessor, to the grand finale of Rhythmic Gymnastics (the only sport shared in common between the gay games and the actual Olympics), fifteen teams ran, tugged and dragged themselves towards sporting triumph, cheered on by a packed crowd of supporters. The event, organised by GMFA, the gay men's health charity, and the Royal Vauxhall Tavern (RVT), took place in Vauxhall Pleasure Gardens on Bank Holiday Monday. Contestants displayed their sporting prowess in popular events such as the drag relay, the egg and spoon race and the 50m mince, helping to raise vital money for gay men's health and the local community.
Donations can still be made at www.gmfa.org.uk/sportsday.