Top 10 Guilty Holiday Pleasures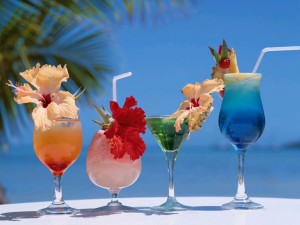 Having an alcoholic drink for breakfast.
Making fun of what others are wearing.
Reading trash magazines you wouldn't be found dead reading back home.
Sun-bathing nude.
Sleep with the hunky waiter.
Telling lies about yourself to all the new people you are meeting.
Wear totally inappropriate clothing.
Pretend you're interested in Time Share only to let the agent down at the last moment after accepting all the free drinks.
Shout and scream like a big kid when you are out on the 'Pirate' cruise.
Pee in the pool cos you are too drunk to get out.