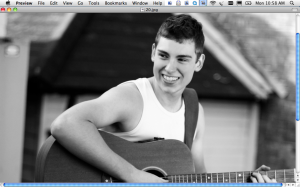 At just 16 years of age, London born TOBI is a white-hot musical talent who's already being compared to the likes of John Mayer and Justin Bieber. Having already qualified for 9 Grammy nominations his first album comes with the US seal of approval, as this debut offering was immediately recognised for its songwriting strength and excellent production. He's already booked to perform at this year's Isle of Wight festival, as well as a nationwide schools tour following his outstanding success in the US. His double A-side debut single 'Brighten Up My Day' (studio and LIVE in concert) will be released 20th August, with his debut album 'Spirit In Me' and 'LIve In London' DVD following on 3rd September.
The single 'Brighten Up My Day', showcases everything that's unique about TOBI in a 3 minute sound-shot. Powerful, yet gentle vocals soulfully skip across a melodic sound-bed of beats and rhythms, as TOBI tells the joyful, care-free story of romance.  This track cokes loaded with two delightful surprises as the catchy melody is bridged with an arresting raunchy guitar solo played personally by TOBI, plus the fact that this 16-year sounds so rich and mature.
Exceptionally gifted, oozing charisma, drop-dead gorgeous and just 16 years of age-the next musical heart throb has just been born!