SEXY AND YOU KNOW IT By Alex Wiggan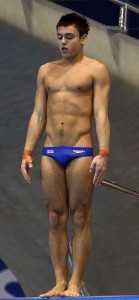 As gay boys up and down the country pretend to take a passing interest in the London 2012 Olympic Games there's one sporting star in particular who's worth paying close attention to. He's young, he's talented, he's got a six pack cut from solid marble and he's a lad that all of us water sports enthusiasts would like to get behind. This sporting personality is of course gold medallist and dishy diving hunk Tom Daley and ahead of this summer's big event he's currently causing quite a splash in the deep end.
18-year old Tom first started making waves at the age of nine by competing in both national and international competitions before unleashing his aquatic abilities in the 2004, 2005 and 2006 British Championships. From there he bagged himself the BBC Young Sports Personality of the Year Award in 2007, represented Great Britain in the 2008 Summer Olympics and won two gold medals at the 2010 Commonwealth Games. However, despite having a very impressive poolside CV, Daley has largely kept himself out of the spotlight in order to concentrate on his sporting accomplishments. Well that was until a certain music video popped up online in February 2012, which signalled that the sporting star had really come of age.
casual encounters barrieHaving enlisted his fellow Team GB pals into a todger twitching spoof of LMFAO's 'Sexy And I Know It', Daley danced around an Australian beach like Rudolph Nureyev in Speedos. Joined by the likes of Jack Laugher, Nicholas Robinson-Baker and Tom's diving partner Max Brick, the very distracting video showed Daley in a whole new light as he paraded his toned torso for the whole world to see.
Like watching an episode of Spartacus only without the constant worry that Xena Warrior Princess is going to get her baps out, the video was tantalising, titillating and downright erotic. thai cupid searchThrough two minutes of thrusting, flexing and gyrating Daley showed the boys back home exactly what all those years of training had accomplished as he displayed muscles that the average bloke wouldn't even know he had. Although very light hearted the video wasn't the kind of film you could show your nana, and was instead a two minute showcase of Tom's tallywhacker. The boy had finally become a man and what a man indeed.
Surely this is what the Olympics should really be about, countless gratuitous shots of fit competitors in budgie smugglers. Oh come on, there are twenty-six events in the Olympic Games and not one of them involves nudity, surely something needs to be done about this situation? How about a timed tonsil tackle, or a tag-team strip followed by a group soaping session in the showers?
women seeking men goaHmm, what about a quick round of arse slapping in the locker rooms then? Either way if awards were handed out for the tightest trunks and the best Abs then Tom would already have achieved a gold medal. Well we'd give him one any way!
DALEY STAR
Tom says his ambition is to become a Blue Peter presenter once he drops the towel for good. Just the mere thought of Tom constructing Tracy Island out of bin bags and empty yoghurt pots is enough to wash away all of those bad memories of the Mark Curry years.
Not only did Daley achieve the title of Young Sports Personality of the Year Award in 2007, he also won the award in 2009 and 2010, making him the only sportsperson to have won the Young Sports Personality Award on more than one occasion.
        Not surprisingly there's a lot of internet talk about Tom Daley's 'bulge' which is just as impressive as the sportsman himself. No doubt said bulge will soon get its own Twitter account (if it hasn't already). #Tom'sTallywhacker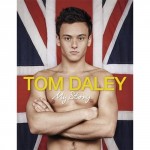 ·         'My Story' is Tom's autobiography and is available now published by Michael Joseph.
LET'S HEAR IT FOR THE BOYS
Daley isn't the only hunk in trunks to watch out for this summer. If you're keen to get into more (cough cough) water sports, then why not cast your eyes over these boys too!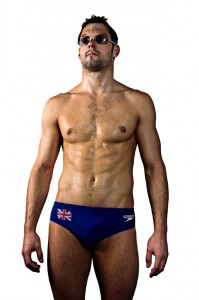 Liam Tancock – English backstroke specialist and all round fitty Tancock (no jokes about his name please), is a gold medal winner and champion of the mighty Speedo! He first started his career in his hometown of Exeter and has gone on to be every bit the athletic piece of man candy. Tancock will be competing in the 100m backstroke at the London 2012 Olympic Games and we'll definitely be watching his moves in the water.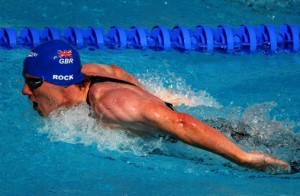 Michael Rock – Having previously competed in the 2008 Olympic Games, Liverpool lad and silver medallist Rock will be competing once again this summer. Rock will be taking part in the 100m butterfly event, which we will be watching very, very, very intensely.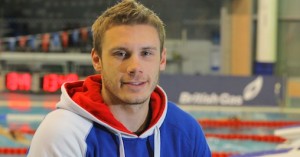 Daniel Fogg – Fogg lists competing at the Olympics and winning a medal amongst his future aspirations, so as he's already halfway there he just needs that extra bit of encouragement. The aquatic hunk is going for gold in the 1500m freestyle and whilst we're not quite sure what the 1500m freestyle is, we're more than prepared to shout his name out in excitement as he gives it a go. Come on Danny boy!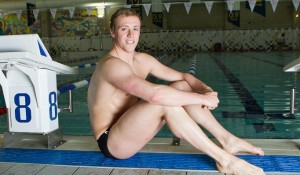 Robbie Renwick – Just like Daniel Fogg, Robbie Renwick will also be doing a bit of freestyle swimming, by competing in the 4x200m, the 200m and the 400m freestyle event. Having previously won gold, silver and bronze medals in similar swimming events at the British Championships he should take to this like a duck to water! If he could just lose his trunks along the way it would make things a lot more fun too!