Let Your Darkside Out to Play.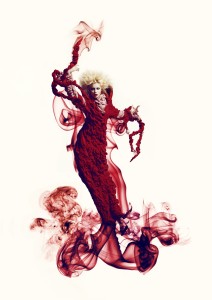 Once upon a time in 2010, a renowned Liverpool choreographer and lifelong Vogue aficionado  named Darren Suarez dreamed up what has now become the stuff of fairytales. The Vogue Ball is a dance event like no other in the UK – where club culture meets high art and Vogue teams (known as 'houses') come together from far and wide to compete for dance supremacy, wearing creative costumes that are often as lavish as Cinderella's ball-gown!
This year's event will take on a Twisted Fairytales theme as it returns for a third outing, bringing its debauched magic to Camp and Furnace, turning the city's most happening new venue into a catwalk spectacular reminiscent of 1970s/80s New York (the home of the Vogue dance style) at its most glamorous. The Twisted Fairytales Vogue Ball asks its princes, princesses and evil queens to display a similar fierce attitude through the artisan performance battles. Dancers will strut, pose and sashay their way through tales of old, bringing them slap bang into the 21st century.
Venue: Camp and Furnace, 67 Greenland Street, Liverpool, L1 0BY
Saturday 6th October,  Box Office: 0844 8000 410 Online at www.ticketquarter.co.uk