LA LA Land – Interview with Matthew Ludwinski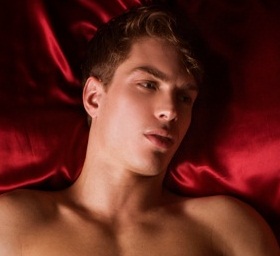 photo: Dylan Rosser
Matthew Ludwinski is a great looking hunk. You don't have to take my word it because after graduating he worked as a model in New York, London, and Milan, appearing in work as diverse as magazine covers, national campaigns, coffee table books, television commercials, and his personal favourite- a choose your own boyfriend teen romance book cover called Hook-up. So the lad is a beauty and seems perfect casting for his first starring role in the movie as a gorgeous hunk trying his luck in the movie business – Going Down In La-La Land.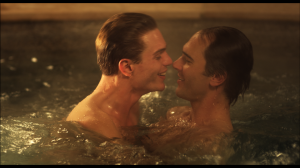 It tells the story of wide-eyed, hunky upstart Adam (Matthew) as he arrives in Los Angeles from New York, brimming with hope for a career in the movie business. He shacks up with best friend Candy, a girl who is also desperate to get a foot in the Hollywood door. Together they hit the red carpets and cocktail parties to network and score roles. Adam's drop dead gorgeous body and chiselled looks prove a rich picking to the needy and seedy agents, directors and studio executives of Hollywood Boulevard, and he begins almost instantly to climb the ladder of fame – or so it seems. He is eventually coerced into performing before the camera and soon finds himself doing things he never thought he'd do.  Also things go tits-up when he gets romantically involved with a closeted Hollywood actor.
Featuring a slew of West Hollywood cameos from Perez Hilton, Bruce Vilanch, Alec Mapa (Desperate Housewives) and Judy Tenuta (Butch Camp), Going Down In LA LA Land is a Los Angelean lesson in the ups and downs of fast fame and bosom buddies.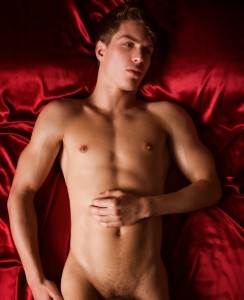 So you sexy hunk… how did you get the part for Going Down in La La Land?
I first auditioned for a lead role in one of Casper's previous films, "Between Love and Goodbye." The part ended up going to another actor, but Casper liked me enough to give me a smaller role.  At the wrap party Casper mentioned he was writing a script based on the book "Going Down in La La Land."  I thought I was perfect for it, and I made him promise to let me audition when the time came.  He kept his promise and two years… and four auditions later I got the part.
As an actor, the competition for roles must be incredible so…were you ever tempted to go down the porn route?
No. I joke that I would only do it once porn stars start getting paid ten million dollars per film.
Would it have been worse than tending tables?
Waiting tables is pretty soul-sucking. One of my greatest achievements was being fired from an Olive Garden in Virginia.
I suppose the idea of a casting couch has become a bit of a Hollywood cliche?
Maybe, but it does exist in one way or another. I worked as a model before, so I know what it is like to be objectified. And every actor at one point has thought about the casting couch, has wondered if it's possible to sleep your way to the top.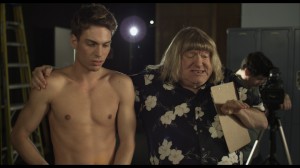 Did you have any worries about stripping off for the part?
At first I was worried that the scenes could be exploitative or gratuitous, especially considering the subject matter of the film. But Casper handled the scenes really well and calmed my nerves. Besides, I'm pretty comfortable with my body – I was even in "Naked Boys Singing"!
Who is your ultimate co-star and what part would you kill to get?
I could be Mark Wahlberg's younger brother…he's pretty cool. And I'd love to play Rudolf Nureyev, the dancer, in a biopic. He was a fascinating, complicated guy and lived in an interesting time. Talented and gorgeous…like me! [joking, of course]
Out Now – Peccadillo Pictures