'Bring it All Back' By Chris Foxx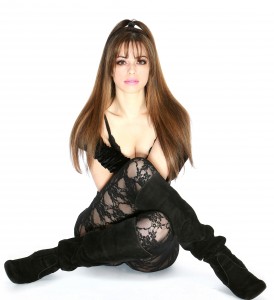 Whatever happened to S Club's Tina Barrett? Whilst Jon took to the stage, Rachel enjoyed a glittering solo career, Hannah chased CGI dinosaurs and Jo, Bradley and Paul pottered around student unions reliving the glory days, S Club's sultry brunette all but disappeared. Now, like a phoenix from the flames, she returns to the music scene with her debut single Fire.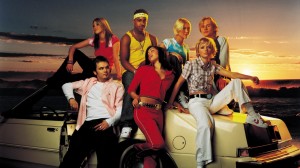 You've been away for 8 years – what have you been up to?
I've been totally out of the public eye, basically in the studio writing with lots of different producers. I wanted to develop myself as a songwriter and after the huge success of S Club 7 I got more interested in writing songs.
Hannah once confessed she'd spent the last weeks of S Club sneaking off to film auditions. Were you planning your next step before S Club split?
It wasn't just Hannah, everyone was planning their next thing. Personally, I just went on holiday, had a very nice time, and didn't plan anything – clearly!
And you didn't fancy having a go on Strictly Come Dancing?
I'd already been high profile with the band and we'd been touring non-stop so it was quite nice having a break from it all. I do love performing but sometimes you get really into one side of the industry and I was working in the studio, so I stayed there for a while. Nothing felt right for me to do at that point and that's why I've kept out of the limelight.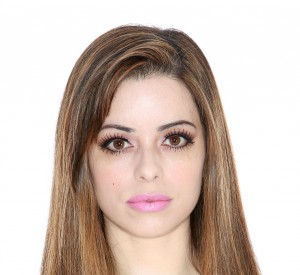 So you're back for good? Or are you just testing the waters?
Well I'd say it's good to test the waters on YouTube. It's not like the old days where you put out a song and wait to see what happens.  Artists now can test things out on YouTube like a soundboard. Although because of S Club it's quite hard to go undercover – I just have to get it out and see what happens.
Why have you decided to release Fire? Why now?
I thought to myself, I can carry on like this, or get something out.  It is a bit of a risk and I kept thinking "shall I, shan't I?" but then I thought what the hell – I'm gonna do it. So I made a video and here I am.
How has the reaction been?
I've been blown away. I was expecting to have to do a lot of work to get it seen, but I've only had it online for a couple of days and a huge number have seen it. I'm overwhelmed.
How would you describe Fire?
I've gone for a real dance vibe. It's not background music, it's very upbeat; there's a little bit of dubstep in there – but the actual melody is quite souly.  I wrote it in my living room to have an RnB vibe but I wanted to make it club because I wanted something you can really dance to. It's a pop track with a dance vibe in it and I hope people wanna dance to it
And you've made a video to go with it?
Yes, it's action packed and quite dark, in a glamorous way. I wanted something quite quirky – I play a lounge singer and seductress. It's raunchy and I've got identical twins as my backing dancers. They're incredible dancers and I choreographed the video too. It's great to let that side of me out.
Are you happy with how it turned out?
Well I wanted a B-movie vibe – quite gritty, like David Lynch meets Quentin Tarantino. I'm a real film buff so I wanted something with a storyline, like one of those trashy novels. It's a bit of a ridiculous storyline but it's my first music video so I might as well do something different.
Do you feel vulnerable putting your music on YouTube where people can comment on it?
I try not to read the comments, although I have checked because it's my first video.  Some people just like being brutal to pop stars! I know that from being in S Club – even though there was no social media we still had our fair share of people that just liked having a go at us, because we were in a pop group doing upbeat music. Some people don't like the positivity!
Why do you think some people enjoy being brutal to pop stars?
I don't know. Some of the things people say are crazy. It's awful – but in a way I find it hysterical. I mean, are you really sat there at home in a pair of slippers, doing this? I think it's hilarious. If I didn't like something, I'd move on. I wouldn't be there every day having a go. I guess it takes all sorts. I'm just embracing everything right now. Even if people don't like the video, the fact they've taken out their time to watch it and comment is quite amazing. I'm not complaining.
So you won't be bullied off Twitter, like Lisa Scott-Lee?
No – I like a bit of banter, because I'm quite mouthy myself! I'm a feisty girl, I can take it – I'm quite thick skinned, but as a performer you've got to be. Come on, you're on stage, in front of people, you've got to expect people to have opinions. It doesn't bother me at all – but obviously I want people to like my song.
Have you been tempted to join S Club 3?
No, I just want to be creative really and do my own thing. I've got absolutely nothing against the guys doing S Club 3, I think it's really cool that they are. It's just not what I want to do.
Do you think people still have misconceptions about you?
Of course, how could they not? All they've seen me do is high kick, back bend, thumbs up! I'm sure people think awful things about me so I'm really enjoying getting something out there and hopefully shocking people. Hopefully the music world is big enough for me to release my videos and do my thing.
So there's more songs on the way?
Absolutely. I'll see how 'Fire' goes but I've got more to come. They're really different again, I've been working with William Orbit and Max Priest, and I've been in the studio with a producer called Inception who I did Fire with. So I've got some songs to release! I've always been obsessed with music whether it's the dancing or singing and songwriting. It's always gonna be in me, I'm always gonna be doing it.
The Single: Fire is out 6th August.