Bent Fiction – It's My Job – Part 3 By Les Lea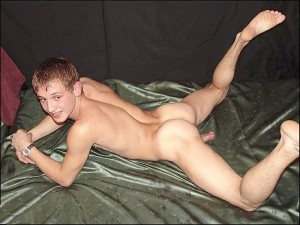 The cute and boyishly looking Sam continues his story of how he has become a much-in-demand escort… and his first love.
So, the mysterious runner who took my virginity over a tree in the wood was Steve Daggers, an athletic, sporty and tough former rent boy who now looked after other 'working lads'. He was of the opinion that my small stature, incredible good looks (his words not mine) and short blond hair would be a very attractive proposition and a bonus to his 'agency'. The money he said I could earn was, for an unemployed teenager like me, staggering but after that first day's experiences (see last month's mag) I was a little unsure. However, by the following day I was back in his 'office' asking what else I could do. His office was actually a rather nice apartment in the city centre, all very tastefully decorated, clean lines and modern furniture. It had a huge living space, which led off to a kitchen at one side, a bedroom and bathroom on the other and a small spare guest-room, which I never got to see inside but I assumed was his proper office. That afternoon, in his sumptuous bedroom, he made me take care of his needs and taught me how to take care of another man's desires. My relative innocence seemed to be a bonus, as it made me less judgemental and Steve knew that he could find me more customers if I kept that young, wide-eyed, naive look. He was of the opinion I was a natural and we discussed the best way to promote my services. Yes, he was all business and seemed to be well aware of his market. Looking around his apartment, he didn't seem to be doing too badly himself. His vast wardrobe was full of designer clothes but a great deal of it was given over to items that might best be used for… shall we say… sex. Lots of leather, rubber, plastic and a cupboard full of whips, dildos, chains and stuff like that. He dressed me up in different outfits; young kid, choirboy, schoolboy athlete, council estate toughie… er… even a baby (I baulked at wearing a nappy and stuff but Steve said there was big money in it if I just played along), and several other different 'looks'. I wasn't all that bothered about dressing up, I thought that all a customer would want is to get me naked and for him to cum in or over me. Steve told me it took all sorts and a bit of gift-wrapping often helped. He took loads of photos of me naked as well as in those 'costumes' but personally, he said, I looked hottest in just a pair of underpants or shorts. Between each photo session, he'd fondle me and say how terrific he thought I looked then instruct me in which way to pose for the camera. He explained the photos were for my portfolio, which he would send out to clients and he suspected, would have a huge impact. After an exhausting day, where he must have taken millions of photos, he suggested we went out for a meal. We laughed a lot. He was funny, generous and enthusiastic about my future. In truth we mostly talked about me but I guess, as he was now my employer, it was only natural he wanted to know what I was all about. However, he said that from the moment he saw me taking that piss dressed in those incredibly sexy shorts (his fetish I assumed) he hoped I'd be up for what he was offering and had more than a hunch that I would phone him. After that first nocturnal shag in a public place, he was convinced I would be more than an asset to his organisation and was very pleased when I called so quickly. I really like him. He's big and muscular, an absolute hunk in his own right and I could see why he was so popular when he was on the game. He just looks so fucking manly and so we ended up back at his apartment where, dressed in a pair of shorts almost identical to those he'd discovered me wearing on that fateful evening, he fucked me slowly, passionately and wonderfully all through the night.
By morning, I was once again very sore but I was also completely in love with my boss.
Any person who has in any way been affected by this story and has any worries about their own situation should contact the Blast Project.  http://mesmac.co.uk/blast