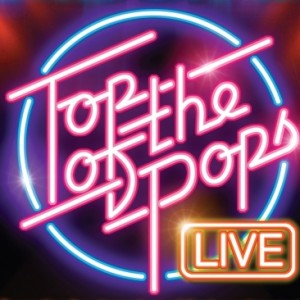 BBC Worldwide has signed a licensing deal with Flying Entertainment to capture the spirit of the iconic TV show Top of the Pops in a unique live theatre production – Top of the Pops LIVE. The show premieres at the Congress Theatre, Eastbourne on October 18 – 20 2012, before embarking on an extensive UK tour that takes it well into the New Year.
Top of the Pops LIVE will work as a nostalgic interactive jukebox celebrating the greatest hits by the biggest stars in the world of pop from the 70s, 80s and 90s – from TRex and David Bowie, to Blondie and Adam & The Ants, Duran Duran and Madonna, to Oasis and Blur. Paying homage to the DJs who introduced the TV show and to the resident dance troops Pan's People and Legs & Co, Top of the Pops LIVE will offer a fabulous feast of musical nostalgia.
During the show, Top of the Pops LIVE will screen vintage Top of the Pops TV chart footage and then host a chart rundown covering three decades. Audiences on the night get to pick which song – from a list of list of five classic hits – will feature in the show's finale.
Top of the Pops LIVE cameras are also on hand during the evening and will follow host DJs around the auditorium as they interview the audience about their favourite vintage music and bands.