Gareth in Loserville by Ryan Houston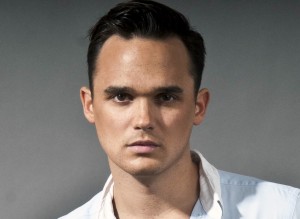 photo: Garry Lake
Ten years ago Gareth Gates became the runner up to Will Young in the UK's first ever Pop Idol. Over the space of ten years he has sold 3.5 million records, had 4 UK number 1 singles and released 3 albums. He has also proved to be successful on the West End stage and assorted TV programmes; ranging from a documentary on speech problems to his highly celebrated performance on Dancing On Ice.  Putting his ice skates on hold for the time being, Gareth is currently starring in a brand new musical, 'Loserville.' 
What has life been like for you since first appearing on Pop Idol, all the way back in 2002 – Does that make you feel old?
I just can't believe it's 10 years this year. It's given me so many opportunities.  I've travelled the world, seen amazing things and now I'm getting to perform in theatre – something I didn't think I would ever be able to do. I'm about to do a show called Loserville, which is actually more acting than singing… all with an American accent!

You've had the privilege of teaming up with some fantastic characters over the years, like the Kumars, who has been your favourite to work with?
I saw the Kumars recently at a party – we couldn't believe how long it had been, we had a great catch up.  We said we should do it all over again! During Pop Idol I got to sing with Rachel Stevens – I was rather pleased at the time I seem to remember! And of course Will and I did a duet – which was fun to promote! I guess it's quite hard to choose.

You very recently worked with a magazine to do some naughty pictures all in aid of the Elton John Aids Foundation, how did that go?
Yes it was for a great cause – but I have no problem getting my kit off.  I've not had much time to get to the gym lately though as I've got so much on, so I would feel a bit more confident after a month working out!

What has been your favourite project to work on since Pop Idol?
There has been so many projects that I've completed since then. Being able to work on The Les Mis 25th year anniversary tour was a total honour. Nothing quite beats the very first album though, it was the beginning.

You  seem to have recently shifted from music to presenting, with a show you headed up called 'Stop My Stutter', will fans be seeing more of you presenting in future or are you planning a return to music?
Maybe. My main focus will always be based around music. But it was an incredible opportunity to film a one hour show, with 5 out-of-control stammerers – showing people what a daily struggle it is. It was important also to show what can be done, with some work.  As for a return to music, I am actually writing with my very talented guitarist Pete. We are coming up with some really good stuff right now. We'll see where it goes!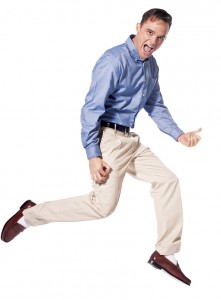 So you've appeared in Les Mis and had a stint as Joseph… I see that you are in a new musical created by Elliot Davis and James Bourne (of Busted and Son of Dork), tell us about that.
It's called Loserville, and opened at the West Yorkshire Playhouse in Leeds last month and runs until 14th July. It has a great cast and as I am from Bradford, I'm really glad to be bringing a new show in my home county. The show is all about being at high school and maybe not being the most popular kid and discovering females.  I play Eddie, a has-it-all rich-kid, who disrupts the status quo…  it's quite a good show to be involved in.
You seem to be trying new experiences all the time. I notice that you have taken a turn on the decks recently, playing music rather than performing so, what else are you up to?
I'm also playing gigs with my band,  continuing to write and auditioning for new parts – so am probably busier than I have been in years. It's all very exciting… but a holiday would be nice!