Federation 10th Anniversary Weekend & Auf Wiedersehen FED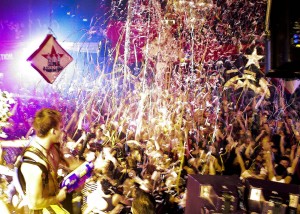 This Manchester Pride sees Federation reach the ripe old age of ten and the team are celebrating with two huge parties over the Manchester Pride Weekend. Sankeys on Saturday 25th August and Federations spiritual home, The Ritz on Sunday 26th August.
For the past decade Federation has become one of the biggest success stories of club-land with events throughout the UK and Europe. However, Manchester has always been the brands favourite home with a huge loyal fan-base supporting every single Federation party. With this in mind Federation HQ had to choose Manchester for what you are about to read!!!
On Saturday 25th August Federation is teaming up with Beyond from London to present 'THE Manchester Pride dance party'. Taking place at Sankey's from 11pm until 5am the event will feature DJ's Nik Denton, Gregg Holden & Lee Harris from Federation and Paul Heron and Jonny M from Beyond. It's was about time that the biggest gay brand from London teamed up with the biggest brand from the north and what better weekend to do this than at Manchester Pride.
NOW FOR THE SAD NEWS….
The team at Federation HQ are not getting any younger and need to concentrate on their knitting patterns so they have decided that (after a decade) it is time to hang up the Federation Production for the very last time at The Ritz on Sunday 26th August.
Yes it's true, this will be the very last party. Join DJs Nik Denton, Stuart Robinson and Gregg Holden as they play a selection of the biggest anthems and hottest tracks from Federation's ten year history plus the final shows from the Federation Entertainers. This final party will be themed on construction or deconstruction, whichever way you want to look at it so get those hard hats out, those ripped denim jeans and checked shirts for the party that will have 'MORE CRACK THAN A BUILDERS ARSE!!!
Tickets for each event are £16 available online from www.ticketweb.co.uk or from Clone Zone, Taurus, Manto, Velvet, Taurus, Village Off Licence, Spar (Oxford Rd/Hulme St junction), Spar (Piccadilly) & Spar (Piccadilly Gardens) in Manchester or from Bar Fibre, Lower Briggate, Leeds. They are also doing a special joint ticket that gets you into both events priced at just £25 so that's a good way to save some money! These tickets are limited so get them while you can online from ticketweb.co.uk or from Clone Zone.
So that's it from the Federation team….Ciao, Au Revoir, Adios….AUF WIEDERSEHEN FED!