WIN THIS DESIGNER ÊShave KIT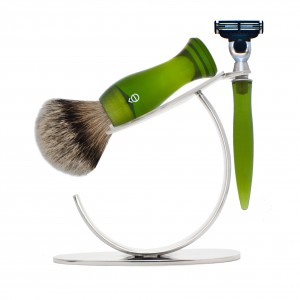 ÊShave founder, Danielle Malka, lived as a professional artist before making her mark in the beauty industry. In 1996, she combined her artistic and entrepreneurial talents to create the êShave brand, a collection of sophisticated shaving essentials defined by their unique style and unparalleled luxury. She designed and hand-sculpted contemporary, aesthetically pleasing tools and accessories that ultimately modernized the wet-shaving tradition.
With celebrity fans like Brad Pitt, Ben Affleck, Justin Timberlake, Sean Maguire, Elton John, Larry King and Sean 'P Diddy' Combs, they have earned a cult-like following around the world. Bringing superior performance and elegance to the daily ritual of shaving with our wide-selection of grooming products including shaving brushes, razors, pre shave oils, shaving creams, after shave soothers, shaving stands, travel gear, and more.
Stockists: Harrods  www.mankind.com    www.nivenandjoshua.com #
 To be in with a chance of winning this superb sculptured shaving kit worth over £200,
just answer this simple question:
Before she made her mark in the beauty industry founder of êShave Danielle Malka
was a professional… what?
Send answers to comp@bent.com