You say you want a Revolution… again!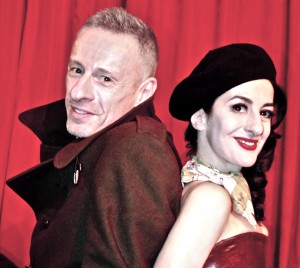 Rich B is a London based DJ with 20 years experience of rocking dance floors worldwide. He is the man behind REVOLUTION, his single with Marcella Puppini, new remixes of which are out now on Toolbox House. Revolution was a huge anthem a decade ago, and was voted "Essential Tune of the Year" twice by clubbers in Manchester. His DJ residencies have included Paradise Factory and Essential in Manchester, Luvely in Edinburgh and Heaven and Love Muscle in London. So, why the remix now?
When I started DJing again last year after some time off, loads of folk were asking for a remix. On top of that Marcella has a really high profile these days – she has just had a Number One album in the US with The Puppini Sisters and Michael Buble – so the remix just had to be done!
Who have you asked to remix the track?
This has been a dream! I can't thank the wonderful Nik Denton and Toolbox Recordings enough for signing the track and arranging all these big-name remixes. Nik himself was my first choice and he has delivered an inspired mix – totally innovative, fresh and mind-blowingly good! I also asked chart superstars 7th Heaven because I wanted a more commercial pop mix, and they have done us proud with two remixes. Then superstar DJ Pagano has given us a stunning circuit mix, which totally rocks the big floors he plays on, and the fantastic Dig-It remix team, who are superstar DJ Wayne G, Andy Allder and Luke Jonnstone, have done a blinder of a mix that is as uplifting as they come. It's a totally great package, that hopefully covers all corners and will spread the Revolution to many a new dance floor worldwide!
There is going to be a launch party in Manchester on Jubilee weekend.  What can you tell us?
It's a right Royal Revolution! On the Bank Holiday Sunday 3rd June, Marcella Puppini will be performing Revolution live at Federation (at the gigantic HMV Ritz Ballroom), which will be a night – and a show – absolutely not to be missed. Manchester is the city where the Revolution started a decade ago, and this will be a massive homecoming celebration! I will be spinning at Afterfed, the official after party and am so looking forward to playing the new remixes of Revolution, as well as some of my other new productions. We are going to raise the roof!
Do you plan to do any future tracks with Marcella who features on Revolution?
Yes! In fact we have already finished the follow-up. It's called "What Have You Done To Your Face?" It's all about plastic surgery, and is another great bouncy anthem. It'll have you singing and pointing at each other like no tune before, and there is no way you will miss it when you hear it out! I will be playing it at Afterfed, but there are no plans to release it as yet…let's see where Revolution takes us first!