Travel – Honeymoon in France
Paris tourism officials want to give new meaning to the term "Gay Paree." The French capital has always wooed visitors with its reputation for fine dining and high fashion, and Paris continually cashes in on its mystique as the land of love and romance. Now Paris and indeed France is a leading destination for gay honeymooners. Chris Amos gets hitched and ventures abroad to find out why.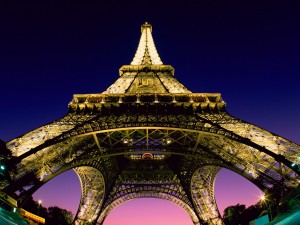 No trip to France is complete without a visit to Disneyland. Celebrating 20 years of magic, Disneyland Paris continues to fulfil the dream of millions of adults including my Brazilian husband who spent the day collecting photographs with as many characters as possible including Mickey, Goofy, Peter Pan and Rapunzel with her long hair. The ticket price includes Disney Studios next door with the amazing Twilight lift ride, scary stuff. Be sure to pay the extra for priority queuing.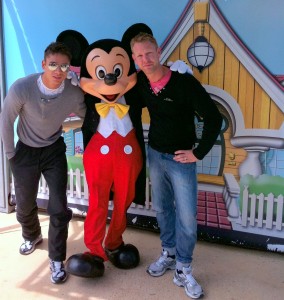 Seeing a burlesque show is second on the to-do list when in Paris. There are quite a few shows to choose from but nothing as surreal and amazing as the shows at the legendary Crazy Horse. Entertaining audiences since 1951, the most avant-garde cabaret in Paris reveals its charms in an all-new show Désirs. The classically trained dancers perfectly integrate the sensuous choreography of their performances and their spectacular bodies. Couple this with some champagne and who knows… maybe the marriage could be over before it starts. Unforgettable.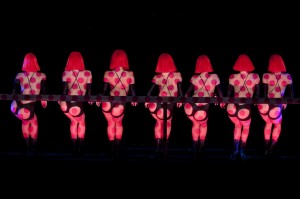 Just to get back to your gay sensibilities a visit to gay scene is needed. Paris is more about bars than big club nights. They leave the party season for summer when Circuit Party Paris takes place, this year from the 28th June to 1st July. The main pride parade is on the 30th June. A host of big club nights take part starting with Hunkut, Brussels famous evening in Paris, an evening all your fantasies become reality, only one word: SEX. Rapido World Tour also comes to town as part of the festivities.
Legendary the world over, toasting with French champagne at the top of the Eiffel Tower is arguably the most romantic thing honeymooners can do. Fortunately, we skipped the two-hour queue to get up there using a media pass and expressed our way up in the staff elevator. Sweet. Be sure to download the monument's new phone app and discover its rich written and audio content and its HD 360° panorama to find your way easily around the monument and the Parisian landscape.
The French Riviera including the beautiful capital Nice is five hours away from Paris by train. It might be a little long but in first class, the trip is a breeze. With its 40km of beaches, the French Riviera provides an intense sea experience: Jet skiing off the coast of Nice, a canoe treasure hunt to the Lérins islands, scuba diving in the harbour of Villefranche, a boat trip to meet the dolphins, big-game fishing, a speedboat trip to Saint-Tropez, parascending in a way you have never done before!
The first few nights we stayed in the honeymoon suite at the 5-star Boscolo Exedra Nice. Situated on Nice's central boulevard, it is perfectly located to enjoy Nice by foot. The hotel is a marvel with historical architecture alongside bold and refined design solutions, distinctively modern, after a large-scale renovation work of this prestigious building of the early 20th century in Belle Époque style. Staying here, we couldn't help feel like movie stars.
If 5-star luxury is out of your price range then you should check out the very cool Windsor Hotel – or is it? Every room is designed by a different artist. The place is more like an art gallery than somewhere you sleep at night. At every turn is more art, the al fresco outside dining in the mini jungle, the check-in, even the top floor gym is more like stepping into a Zen painting then a place for a sweaty workout.
They say French cuisine is the finest dining in the world, if this is true and Nice is one of the nicest cities in the world that would make Luc Salsaedo one of the nicest finest restaurants in the world. Independently run by handsome Chef Luc and his lovely wife team, the restaurant attracts a healthy mix of locals, celebrities and food connoisseurs. Guests are seated in a smallish dining room with only about half a dozen tables where they experience unparalleled food and service. Popstar Prince once tried to book the place out but they wouldn't have it, as they didn't want to have to turn away regulars.
This truly was a dream honeymoon, full of magic, spectacle, sophistication, gastronomical delights and of course, champagne… it is not surprising so many couples choose to spend their honeymoon in France.
FACT BOX
 Eurostar operates up to 18 daily services from London St Pancras International to Paris with return fares from £69. Fastest London-Paris journey time is 2hr 15 minutes. Tickets are available from eurostar.com or 08432 186 186. With the option of flexible fares, Standard Premier offers the freedom to work, think, or simply unwind. You will be presented with calm, spacious surroundings with on-board staff offering a light meal and a selection of magazines. Standard Premier starts from £189 return.
 Rail Europe provide fast relaxing train travel between Paris and the French Riviera and many other destinations. For reservation enquiries call 08448 484 064 or go online www.raileurope.co.uk
Radisson Blu Hotel at Disneyland Paris is minutes from the most magical destination in Europe. The hotel features an impressive Wellness and Fitness Centre with an indoor swimming pool, fully equipped fitness area, sauna and steam bath. www.radissonblu.com/golfresort-paris
Absoluving provide excellent value self-serviced apartments in the heart of the gay district in Paris. Perfect if you wish to relax for a few days and feel at home while on holiday. www.absoluliving.com
Crazy Horse www.lecrazyhorseparis.com
Paris Circuit Party www.pariscircuitparty.com
Eiffel Tower www.tour-eiffel.fr
Boscolo Hotel www.nice.boscolohotels.com
Windsor Hotel www.hotelwindsornice.com
Restaurant Luc Salsedo www.restaurant-salsedo.com