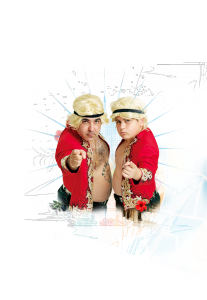 When father and son act Stavros Flatley ran on stage at the Hammersmith Apollo for the Britain's Got Talent auditions, nobody could predict what was to come. They became an overnight sensation and have since travelled the world with their act and, it has to be said, have proved very popular at gay pride events. Ryan Houston put on his dancing shoes to find out: What the father and son duo have been up to since that life changing TV appearance?
Since Britain's Got Talent it has been a real whirlwind. We've been to so many countries and danced in so many different places that we really have had the experience of a lifetime and to be able to experience all this with my son is a great thing. I still find it funny when we are out and you can hear people whisper 'that looks like Stavros Flatley' and I turn smile and lift up my t-shirt and flash my belly (the wife's always having a go about that ) and they smile back and always want a picture.

Where did the concept of the idea come from?
I remember watching Michael Flatley and just loving the showmanship of the man. He was a fantastic dancer and had the audience in the palm of his hand, with those looks that he gave and the way he would gesture to them as only a great dancer could. It was then I just thought wouldn't it be funny if a little fat man could do that, if he could give those same looks to the audience and have no concept that he was a short little fat man then I knew that would be funny.
When my son asked if we could do it together I was a little worried that he wouldn't be able to get the looks or the mannerisms of Michael Flatley but, I needn't have worried. He not only got it perfectly but he made up most of the moves that we both do and I think he made Amanda Holden blush a little with the kiss he blew her when we were on that stage the first time .   
Where do you think you would be if things hadn't gone the way they did for you guys?
That's actually the first time I've been asked that. I guess you never really think about where you would have been if it had all failed; you mainly look to the positives. I think that if it didn't go as well as it did we would have gone back to our normal lives and it would have been just something that we did as a gag.  In all honesty that was what it was meant to be, a gag, going on a talent show as a bit of fun and we didn't actually believe that the audience would see it as a very good gag.
What have you got planned for the near future?
Well, we have a great food range out at the moment called Stavros Flatley's Greek Kitchen. It's a range of marinated meats and some Greek Cypriot specialty dishes that we've teamed up with Morrison's and that seems to be doing really well.
We are still dancing around the country and this year we are supporting Bjorn Again, the ABBA tribute band, on their national tour. We are also performing in China for the final of China's Got Talent; someone said 500 million people watch that show so it's safe to say we are a tad nervous, I hope they like little fat bald men in China!