Showgirls Smash Gran Canaria Pride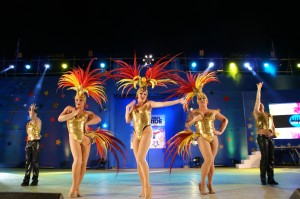 Maspalomas Pride has become a 'must-go' event on the gay pride calendar. This annual celebration of diversity, hedonism and fun in the sun  was brought to vivid, colourful life last month by the inclusion of the 'girls' (and boys) from the Viaduct Showbar in Leeds.  It was their first International booking and excitingly they were the only British Drag Showgirls to perform on the main stage. Danny Cher Bailey, Anja Bach and Cherry Pops, along with dancers Aaron Audis and Andy McGuire, took the crowd of thousands on a trip through some pretty perfect routines.  Also part of the team was Leeds Drag Idol winner, Simon Millea, who won the title when he sang a brilliant tribute to Adele during the original competition. This time, and in front of this massive crowd, and a TV audience of millions, he performed a live vocal tribute to Celine Dion with "My Heart Will Go On", which had a terrific response from his spell bound audience.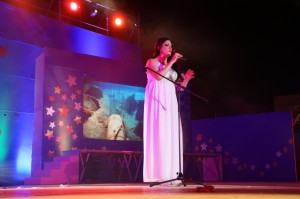 The Yumbo Centre is the pivotal point where the huge stage and non-stop entertainment has the crowd in party mood from the very beginning. Top Spanish acts, European DJs, dancers, singers… you name it, there's a place of the programme for everyone. However, the Showgirls were a tremendous hit and were found, not only taking the main stage by storm but also hosting events, taking over guest DJ spots and performing at the showbar Sparkles.
Photos: gaymaspalomas.com