On Vacation with Alphabeat By Ryan Houston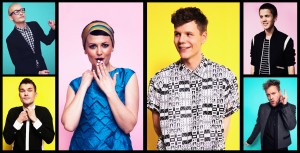 Five years ago Danish popsters Alphabeat burst onto the music scene and immediately took the charts by storm with their up-beat and dance-inspired tracks 'Fascination' and '10,000 Nights'. The band has been a little too quite for their UK audiences recently but now they return with the sensational new single 'Vacation'.
 How did the band come about in the first place?
We started out as a terrible indie band like everyone else in 2002. We were horrible at it and found out that the crowds loved the more catchy stuff we made. We got Stine and Rasmus on board and the 80s sound kind of kicked off. Like everyone else at the time we just wanted to form a band, go out and play some gigs in front of our friends, get drunk and have fun. It was just a fun way to waste time when you weren't at school. Perhaps, the inspiration for the whole concept of the band was through boredom.
It suddenly got more and more serious as the crowds got more involved and wanted more and songs like "Fascination", "10,000 Nights" and "The Fantastic Six" laid the groundwork for what we are today. When those songs were written we knew that was the way to go. The sound has changed a million times since then – especially live.

In the creation of new albums we just go along and go where the mood takes us. On the last album we were sure we'd make an R'n'B album but it ended up as a 90s dance kind of pop thing. This time around we've been inspired by old school girl groups and stuff like that but that's not where the new songs have ended up. You can hear it somewhere in there but it's basically just an inspiration. 

Pop music is incredibly fickle, how has Alphabeat stood the test of time?
We've had our ups and downs. Lots of ups – luckily. A gold selling album in the UK, a Top 10 single and several Top 20 singles too but it's been a lot of hard work and that's also why we've moved back home to Copenhagen now. We could have lost a member if we'd continued working as much as we did. Now we've got a base close to everyone we love and that's a great place to be. We've been taking much more control. We've got a studio where everything comes together; we can do our music, the artwork, take care of the online work and do the more basic financial stuff. It's nice to get everything organised and less major label controlled. We've always been a pain in the ass to work with but it's because we're six people with six different opinions and we know how to do art work, homepages etc. so why not just do it the way we like it in the first place?
The new single 'Vacation' is a real summer hit, do you enjoy performing these kinds of songs?
There is not going be one moody song on the next album… maybe not even a ballad. We're more into the upbeat, fun and vibrant kind of tunes and that's what we do best. We always play very energetic live shows and obviously upbeat songs go down pretty well anywhere in the world. We love the interaction with people and there's no better way than getting this than with a bit of dancing, a lot of sweating and loads of fun.

With 6 members do you guys sometimes find it hard working together?
It's become so much easier. We are good at handing our tasks and take on tasks. We're a united group of creative people and we like to share ideas, music and interests with each other. It's an enjoyable experience working as a group, we wouldn't change that for the world.
Since the formation of the band what has been the most pivotal part?
Moving to the places that felt right in chasing the dream. We all moved to Copenhagen after we finished high school. We got a record deal here and released our self-titled debut. Then got signed to EMI in the UK in 2007, moved there and released 'This Is Alphabeat' and played hundreds of live shows. Now we're back in Copenhagen where we know everyone, where we are 5 minutes away from the studio and can work with the world from a new point of view. But moving to the right place at the right time seems to have been a general good thing for us.
As a band what do you hope for from the release of 'Vacation'?
It's basically a "fan service" … We release this single and probably also our next album through iTunes, almost worldwide, together with our Danish label Copenhagen Records. We know we've got a big fan base in the world and instead of letting people wait we'd give it to everyone at the same time. Pop is universal so why not share it if it's possible.