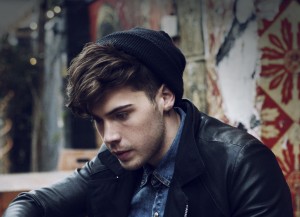 Aiden Grimshaw appeared as a finalist in The X Factor in 2010. His audition is one of the most watched on YouTube – a striking a cappella version of Kanye West's Gold Digger. Aiden said of the show: "I didn't really know what I wanted from it. I love music, and I knew I could sing, but I didn't think I was X Factor material. I'd been given this opportunity and I didn't want to waste it. But I had no idea what sort of music was really me. Everyone else had their own ideas, but all I knew was what I didn't want."
Following his appearance on the show, 20 years old Aiden moved from his hometown of Blackpool to London and set up a home studio where he spent two years writing and recording demos with various writers and producers. He found musical soul mate Jarrad Rogers (Lana del Rey, Tinchy Stryder), and the resulting songs make up his debut album.
'Is This Love' is an extraordinary, soaring pop anthem exploding with grinding drum & bass beats, and offers a taste of the light and shade which Aiden explores in 'Misty Eye'.  The single is not what you'd expect from an X Factor contestant;  this is mature, thoughtful, dynamic  and absolutely brilliant.
Debut single 'Is This Love' out 3rd June.   Debut album 'Misty Eye' out 13th August  – RCA Records
Photo: Alexander Jordan