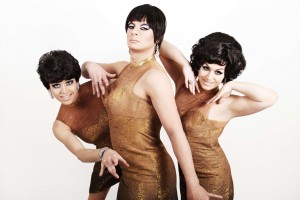 Meet the Supreme Fabulettes… destined to be the next big thing in sophisticated entertainment.
The Supreme Fabulettes are Miss Vicki Vivacious, Miss Mary Mac and Miss Vanilla Lush. stunning wigs, Adele, Supremes, Diana Ross, Tina Turner, Glee,  Motown,
Launching with a series of headlining performances across London in May, the group has a top creative team behind them, who between them have worked with the world's biggest pop stars and on some of the most stunning music tours of recent years.
Dressed head to foot in fabulous couture costumes, wearing stunning wigs and death defying high heels, The Supreme Fabulettes will turn on the glitz and glamour to perform Glee-style song mash-ups of classic 1960s Motown hits and contemporary songs.  Brace yourself for their renditions of The Supremes' Stop In the Name of Love crossed with Girls Aloud's The Promise and Tina Turner's Proud Mary teamed with Adele's Rolling in the Deep.