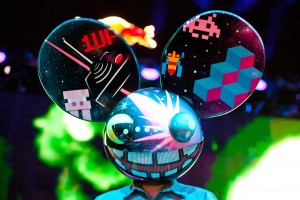 The electronic dance music titan is an artist that is constantly looking for innovative ways to push his craft forward. With this release he's set another yardstick of what it is to be an artist in this socially networked age.
The mau5 recently overhauled his studio in his home town of Toronto.  Since the end of his gruelling North American tour he's locked himself in and gone on a creative spree.  Ever committed to his fan base, he has invested in a high tech setup so that he can Live Stream his writing/recording sessions and give fans a window into that process.
During a 22 hour Live Streaming session, deadmau5 created a new track titled 'The Veldt' inspired by a short Sci-Fi story written by Ray Bradbury. He then uploaded it to his FML Soundcloud page for his fans to enjoy. At this time it was just an instrumental.
"I'm keen on short stories, since I lack the time to dip into a massive novel. And well, as some of you know, other peoples art, poetry, writing or otherwise can very easily juxtapose to your own craft. Inspiring you to create your own personal extension or compliment to the work… hence the track itself…anyway, after being inspired, I felt… man, I'd really like to create a soundtrack to this. A somewhat melancholic yet uplifting audio image of kids bestowed with insane technology which enables them to conjure up any setting or anything they desire."
The next day he found that his fans were tweeting him about a vocal version on Soundcloud. He didn't react to their tweets initially as he gets so many submissions, but the volume of messages was such that he gave in and decided to check out what all the fuss was about. The fan had taken his comments on board and based his lyrics on the short story. When deadmau5 heard the fan's version he was totally blown away. This has all been caught on video during the Live Stream.
"He righteously did his homework, and came up with just a few bang on verses that completely compliment the story and the mood, which is all i ever want from a song that contained lyrical content. Can't give him props enough." 
for those of you familiar with the story, check it out here: http://www.veddma.com/veddma/Veldt.htm
The Veldt EP released 25th June                                                                           www.deadmau5.com    
Photo: Rukes