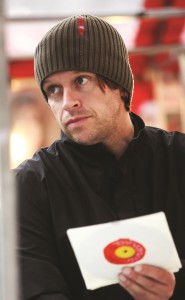 The 5th full-length studio album from Chicane (producer/songwriter Nick Bracegirdle) sees one of the 21st century's most imaginative sound designers deliver his new, 12-strong track collection. Stylistically the music on 'Thousand Mile Stare' ranges canyon deep and valley wide, incorporating themes from a wide scope of dance music. The man who brought you the chilled quintessence of 'Offshore, the cultivated trance of 'Saltwater', the chart conquering 'Don't Give Up' and the super-infectious 'Poppiholla' is about to deliver again. 
"This is music I made whilst consciously trying to disengage from electronic dance music's genre/sub-genre loop. It's a call-it-what-you-want/it-is-what-it-is, maximum latitude album. No matter what I do though, whatever style I produce in, it's always going to have that Chicane sound, feel and vibe to it." – Nick Bracegirdle, somewhere up the mountain.
Throughout the summer, from the speakers of Café del Mar to the plains of the world's outdoor festivals, Chicane's 'Thousand Mile Stare' will sound out.
Out: 4th June                                                                                                 www.chicanemusic.co.uk