Bent Fiction – It's My Job – Part 1 By Les Lea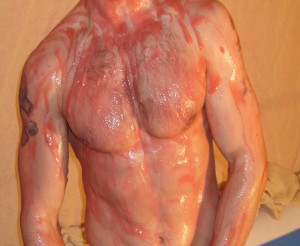 Nineteen year-old Sam is an escort who loves his job. At only 5'5" his cute young looking body has his customers keen for a return visit. Here he tells us about one of his regular clients and just why he loves the work he does.
Bob is one of my regulars. Once a month, for the past 9 months, he'd book me to indulge in his sticky fetish and, I have to say, I thoroughly enjoyed these sessions. Some clients just want me naked and to get the deed over and done with as soon as possible. Some are guilty about what they are doing; some ashamed of hiring a rent boy to fulfil their needs, while others are on a deadline and just wanted a quick, no-nonsense shag. However, that is what I do and I am happy to do it while I can. I don't moralise about what people want or ask me to do. In the main, they are the customer and what they want, and pay for, is what they get.
Bob is quite well off. I believe he made loads of money when he was quite young and now, in his late 40s, lives off the proceeds. His penthouse apartment has an ultra-modern kitchen, two bedrooms and a huge living room that opens up onto a balcony, which overlooks the city. He has also converted his third bedroom into a 'playroom' and that's where we get messy once a month. Kid's TV would be proud of the amount of slimy sticky stuff he's poured over the both of us in the times we've done this together. I am well paid for being the target of his slippery needs and it is great fun. He likes me to appear at his door dressed in suit and tie (and I've recently added a briefcase to complete the respectable young businessman look). He greets me dressed the same, it's as if we are about to go into a high-powered business meeting, but that image only lasts a few moments as it is the removal of clothes, which are always neatly folded outside the play area, and the transformation into 'sloshboys'(that is, guys who love messy fun), that gets him going.  He supplies what he wants me to wear (sometimes I'm naked, other times I've had wellies and a plastic apron, shorts, a divers wet suit), whatever he has a sudden thought about, he gets me to try and I love not knowing what it's going to be next. He'll also have all the substances he wants to use stacked around the room; I supply the body, a smile and no attitude. We laugh a lot as plates of food, tubs of mud, chocolate mousse, buckets of foam, paint, oil, porridge – you name it and it is probably in his repertoire of stuff that we launch over one and other. Sometimes he'll walk up to me, pull at my shorts or underpants and drip a gallon of some sticky treacle or greasy gloop all over my arse or cock and balls. The stuff gets everywhere but at the end, and especially if the goo covering my arse is still slick and liquidy, he likes to rub himself off against my slippery butt cheeks. His cock has inevitably been hard from the moment I arrive, so when he does cum his copious orgasm is a flood, which is then rubbed into whatever it is he's covered me in. He seems to derive as much fun from our sloshy antics as he does from cumming and he's deliriously happy from start to finish. He always pays me more than we've agreed. So, after we both take an innocent shower – the messy and sexy stuff is kept strictly for the fun room – I leave his place dressed in my suit  and with no tell-tale signs of what we've just done (the 'business meeting' successfully completed) and always a lot better off than when I arrived. In fact, that one session with Bob could mean that I don't have to work for the rest of the week… but I do… you can't let your clients down can you?
Any person who has in any way been affected by this story and has any worries about their own situation should contact the Blast Project.  http://mesmac.co.uk/blast