BEAUTY AND THE BEAT BY DUSTIN FITZHARRIS
 American Connection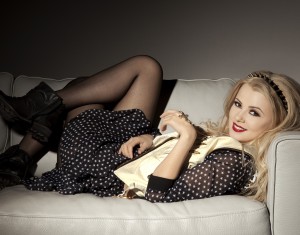 Mika Newton isn't afraid to admit she is relentless. She vows that she will never stop working hard, going to places, meeting people, and encouraging everyone around her to make a difference in the world. If it sounds like Newton is on a mission to prove she isn't just another pretty, blonde pop star, you'd be correct.
Last month, the 26-year old released her American-debut single titled "Don't Dumb Me Down," written by Danish composer Rune Westberg. The beat is instantly infectious. The lyrics, "Sometimes you don't get what you ask for; Sometimes you get a whole lot more," are empowering and yet clever enough to stick in your head throughout the day.
"It is a song with a very encouraging message," Newton says. "People tend to think that if you are pretty, it's unlikely that you have some brains too. I come across this opinion all the time!"
With "Don't Dumb Me Down," Newton's American career has been launched on a high note. She is the latest protégé of veteran producer and "American Idol" judge, Randy Jackson, who produced the single. MTV immediately took notice of the song and its video, directed by Marc Klasfeld, who is known for his work with Beyoncé and Katy Perry, and named it "buzzworthy."
But make no mistake, Newton isn't trying to be a carbon copy of her peers. While she believes that every artist has a gimmick, her focus is on inviting her audience to take an emotional journey with her to recognize the potential they have within.
"My ultimate mission as a performer is to help people believe in themselves, bring them hope of a better life and inspire them to be the best they can be," explains Newton. "All our life is a struggle with something. And if we achieve everything easily, we wouldn't appreciate what we have as much. If you do what you do with love, you don't think of anything else and just do it because it comprises your life."
Since Newton, born Oksana Stefanivna Grytsay, was a young girl growing up in Burshtyn, Ukraine admiring the talents of Celine Dion and Michael Jackson, she always knew she wanted to sing. At 7 years-old she started going to music school. Both of her parents supported her passion, and her father even helped train her to be the kind of performer who could sing at any given moment. Newton remembers how often he would wake her up late in the evening to entertain guests who had come by the house for a visit.
Newton continued to hone her craft and participated in various song contests. In February 2011 she was chosen to represent Ukraine in the Eurovision Song Contest. While she finished in fourth place, she caught the eye of producer and "American Idol" judge Randy Jackson. She signed a contract with JK Music Group and Jackson's Dream Merchant 21 and moved to Los Angeles in hopes to reach a whole new audience with her music.
"I am very honest with myself in my songs and what I want to say to people," says Newton. "I want to help them be honest with themselves. I would call my 'stamp' on today's music as 'the stamp of truth.'"
At the moment Newton describes her audience as young people who "understand that life is an amazing adventure and everything is in their hands." However, her colorful dance beats combined with empowering messages about finding pride within, are finding resonance among gay fans too.
Some naysayers may say her image is too innocent for today's pop music scene, but she isn't concerned with fitting into a mold and using what is hot now to sell her music.  "I do not really believe in fads, nor do I want to be a part of it. My intention is to continue to follow my heart and create my own art for people to enjoy and make their lives better," Newton says.
The future is bright for Newton. She has been quoted as saying that having wings to fly was something she always wanted. If she continues to keep her dreams alive and work as hard as she's doing today, she may get her wish and soar to heights she never even imagined.