Travel – Book a Break in Brussels…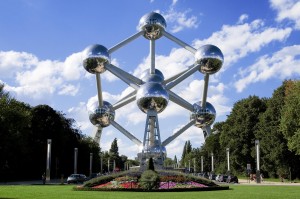 Brussels is probably best known for being the home of the European Parliament or a great place for chocolate, not as a great getaway destination. We sent Simon Savidge to see just what Bent Brussels had to offer and why you should be booking a trip there in 2012.
Even though it is only 2 hours away on the Eurostar or just over an hour in the air, I don't think most of us would consider Brussels as an instant hot spot for a long weekend away. You would probably associate it with chocolate and waffles, where the European Parliament meet, or see it as somewhere you travel through on your way to somewhere else. In actual fact, Brussels is a city that surprises you as soon as you enter. It has a feeling as if Prague and Paris have met somewhere in the middle, it's a hub of history and culture… and it's got a pretty cracking nightlife too.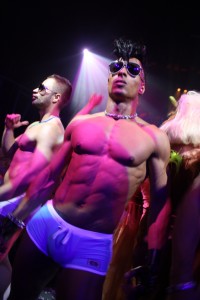 Brussels is one of those cities where when you turn into each street there is always something of interest. One minute you can be walking through a street teaming with high street stores, the next you are walking down a road of high end designer stores and boutiques, perhaps finding yourself in a secret hidden park, or walking past a historical building like the stunning and grand City Hall. It's a compact city, so whilst you are never far away from anywhere you can have that delightful feeling of being lost with endless possibilities to explore down each street you turn onto.

It is also a city of museums. The Margritte Museum could easily contend with the Tate or the Louvre for its impressive collection of fine and modern art. It houses separate buildings for touring worldwide collections, in fact, each year the city hosts a country of which it embraces – putting on music, culinary and film events celebrating that culture further, at present it is Brazil. With Brussels being the home of Tintin you also have about five different museums celebrating the most famous Belgian character, the best the aptly titled The Comic Strip Museum. There is also the wonderfully unusual Museum of Musical Instruments, which houses a secret roof top cafe overlooking the whole city and is worth it for the hot chocolate and views alone.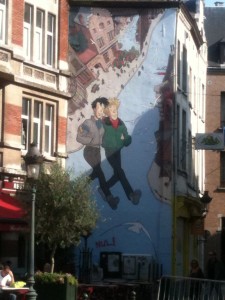 Brussels is also the perfect city if you enjoy fine cuisine, in fact the culture of the city and its people is very much one of dinners that last for hours while you catch up over a bottle of fine wine… or several bottles of beer. We would advise you distance yourself from the main tourist strip however, this is brimming with restaurants but they are expensive and don't show the true cuisine of the area… instead favouring crepes and omelettes with frites. We would strongly recommend the typical delightfully oldy-worldy feel of Le Brassiere de Bruxelles (http://sites.resto.com/b/labrasseriedebruxelles/), walk in and you feel like you have gone straight back to a stereotypical European bistro in the 1930's. There is also the upmarket decadence of a converted bank of Belga Queen, where you can go and smoke cigars in the old vault and where each course can be matched with its own special personalised beer, something else for which Belgium is famous.
If you are looking for a party then the biggest one in Brussels is La Demence (www.ladamence.com) which sees not only all the gay men from the city itself come out but also many from the nearby cities and from all over Europe. The transport links mean you can come from France, Germany, Italy etc and simply book a cheap hotel or travel there and back over a couple of days. Meaning, that the selection of men you can feast your eyes on is as varied in type (MuscleMarys, bears, twinks, average joe's) as their nationality. In fact, some people choose not to even book a hotel and party all night long before travelling back the next day.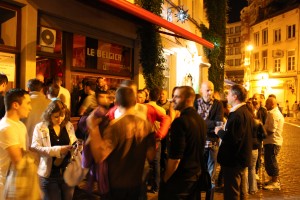 Now having visited the city I would heartily recommend you stay and make a long weekend of it as with so much else going on, and we don't just mean the gay neighbourhood, though it is quite a place to hang out. There are a wealth of bars hidden away down historical old streets we would recommend: Homo Erectus (www.homoerectus.com) or the wonderful cabaret bar Chez Maman (www.chezmaman.com) if La Demance isn't on, or its a little hard for your tastes, then you will find just a varied a group of men at the Tea Dance (www.leyougayteadance.be) which is a poptastic night of fun.
There is also much to do on the outskirts of the city if you want to be lost in wide open spaces. Ten minutes outside the city and you can find yourself at one of the most famous of Brussels buildings – the Atomium, known by locals as 'the balls of the city'. You can take a tour inside them learning the history of the city and the area it lies in, which was a former World Exhibition Centre. You can also eat in the panoramic restaurant open till 11pm, it would make the ideal dining experience at dusk with views at 110meters high. Wander the park surrounding it and you will discover hidden Chinese pagodas, art deco buildings and Greek temples, it's a bizarre and brilliant space. You may even find yourself in Mini-Europe, not a model village, but a model Europe no less.
If you want something extra special then another ten-minute trip out of the city and you could end up eating in the woods, in a chalet, on an island in the middle of the lake at Chalet Robinsons (www.chaletrobinson.be) in La Cambre Wood, which is quite unlike anything I have experienced before. An ideal hidden romantic getaway in a setting… with gourmet food.
As you can see there is so much to experience in this lesser known city that it's a surprise everyone isn't going there.  It is certainly one of our destinations for 2012, be it that you want a change of scene for a weekend of partying or a romantic break away for two then Brussels will more than happily meet your needs, get booking a break there now before everyone else cottons on.

Simon stayed at the Sofitel Louise www.sofitel.com and flew with Brussels Airlines. For more information on the gay Brussels visit http://visitbrussels.be/